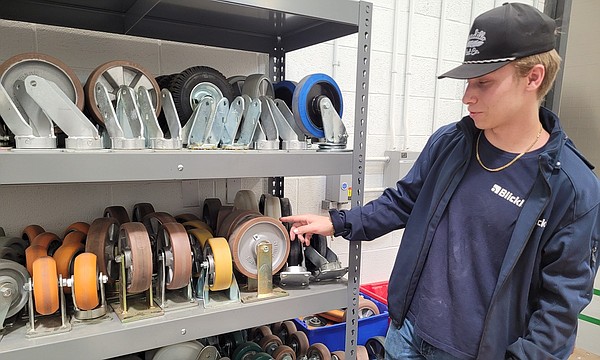 Advertising
Advertising
The program is run from Germany and begins at the age of 15
October 1, 2023 at 5:05 p.m
Walker Reese, who began his apprenticeship at Blickle Casters+Wheels at age 15 and is now a full-time employee, shows off some of the wheels the company makes. (Patrick O'Donnell)
This time of year is when most 14-year-olds in the United States are deciding what courses they want to take as high school students.
Walker Reese chose the company where he wanted to start his career.
Reese, now 19, got a big head start in his career thanks to a groundbreaking program: The German-inspired Georgia Consortium for Advanced Technical Training accepts students in Coweta County south of Atlanta as second-year trainees, likely the youngest members of a training program in In the United States, similar apprenticeships exist in other areas of Georgia, although not as young as in Coweta County, where German-based companies have American plants.
By starting early, Reese completed his three-year maintenance technician apprenticeship when he graduated from high school last spring and accepted a full-time position at Blickle Casters+Wheels in the city of Newnan.
"ID
title
Advertising
Advertising