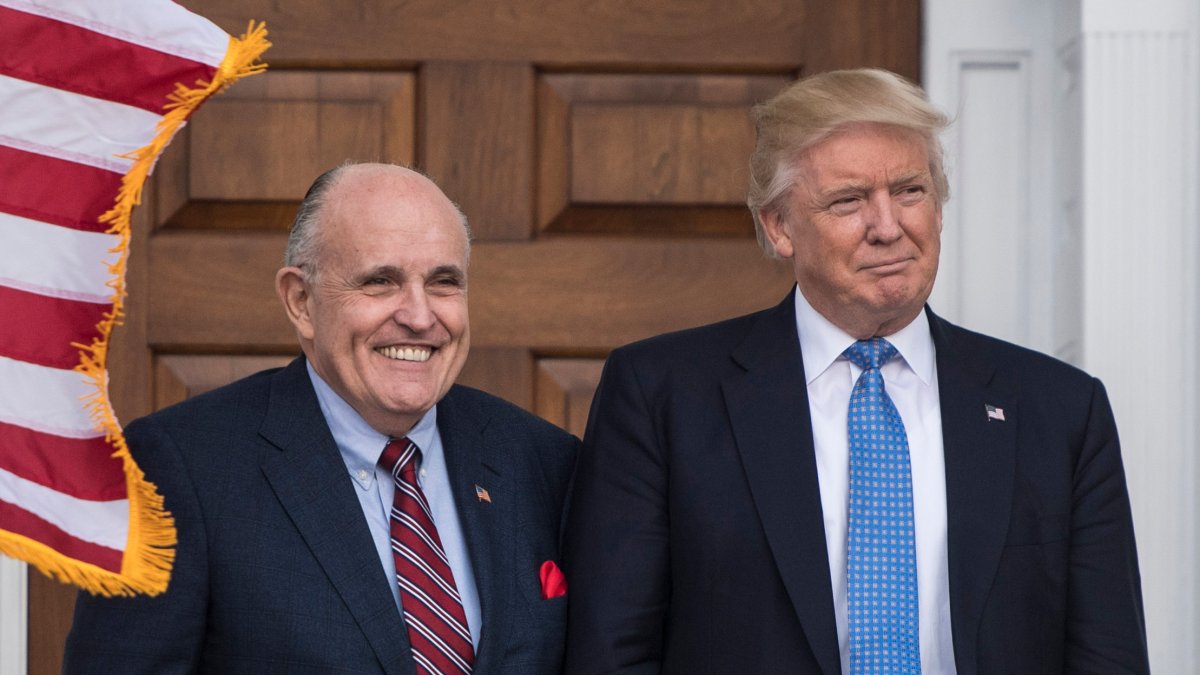 Fulton County District Attorney Fani Willis opened her investigation into Donald Trump after a recording of a phone call between Trump and Georgia Secretary of State Brad Raffensperger was released in January 2021.
Trump suggested during the call that Raffensperger, a Republican and the state's top election official, could help "find" the votes needed to overturn his narrow loss to Democrat Joe Biden.
More than two years later, the indictment handed down by a grand jury on Monday went far beyond that phone call and alleged that Trump and others committed a web of crimes. Willis used Georgia's Racketeer Influenced and Corrupt Organizations (RICO) law to indict Trump and 18 associates for their alleged involvement in a wide-ranging conspiracy to overturn the state's 2020 election results.
She told reporters late Monday that she planned to try all 19 defendants together, citing her prosecutors' experience with extortion cases. This is the 11th RICO case her office has brought. Willis became district attorney in 2021.
Here's how the law works:
How does an anti-gangster law apply to Trump and his allies?
The federal Racketeer Influenced and Corrupt Organizations Act was created in 1970 as a tool to combat organized crime. The law allowed prosecutors to target people in positions of authority within a criminal organization, rather than just lower-level people who do the dirty work.
However, its use should never be limited exclusively to organized crime. The U.S. Supreme Court noted in a 1989 opinion that the law was "broadly drafted" to "cover a broad range of criminal activities that take many different forms and are likely to attract a wide range of offenders."
A few years after the federal law went into effect, states began enacting their own RICO laws. In general, RICO laws allow prosecutors to charge multiple people who commit different crimes while working toward a common goal.
Audio recording of a call between President Donald Trump, his aides and Georgia state officials obtained by NBC News confirms that the president begged, harassed and threatened Georgia Secretary of State Brad Raffensperger in an attempt to overturn the state's election results. NBC's Tracie Potts reports.
What does Georgia's RICO law say?
Georgia's RICO law, passed in 1980, makes it a crime to engage in, gain control of, maintain control of, or conspire to engage in a "pattern of racketeering activity" in an "enterprise." It is important to note that the alleged scheme does not have to have been successful for a RICO charge to stick.
A "company" can be a single person or a group of related people with a common goal. "Extortion activities" are the commission, attempt to commit, or solicitation, coercion, or intimidation of another person to commit one of more than three dozen state crimes listed in the statute. At least two such acts are required to meet the standard of a "pattern of racketeering activity," meaning prosecutors must prove that a person committed two or more related crimes as part of their involvement in an enterprise in order to be convicted under RICO to become .
The U.S. Supreme Court has stated that federal RICO charges must show continuity, i.e. However, the Georgia Supreme Court has made clear that there is no such requirement in state law.
Why Use the RICO Statute?
"I'm a fan of RICO," Willis said during an August 2022 press conference as she announced RICO indictments against more than two dozen suspected gang members.
Willis said jurors want to know all the facts behind an alleged crime and that a RICO indictment allows prosecutors to provide a complete picture of all suspected illegal activity. A narrative introduction allows prosecutors to tell a story that can contain a lot of detailed information that may not relate to specific crimes but is relevant to the larger alleged scheme.
RICO charges also carry a high penalty that can be imposed in addition to the punishment for the underlying offenses.
What is the minimum sentence for a RICO charge and can she be pardoned?
In Georgia, a felony conviction carries a prison sentence of five to 20 years; a fine of $25,000 or three times the amount of money obtained from the criminal activity, whichever is greater; or both a prison sentence and a fine.
Because RICO is a federal charge, it cannot be pardoned by any president.
What are the challenges in applying the RICO statute?
J. Tom Morgan used the Georgia RICO statute to prosecute a corrupt sheriff when he was district attorney in DeKalb County, which borders Fulton County. He said one challenge is explaining to a jury what the RICO law is and how it works.
"Everyone knows what a murder case is, what a rape case is, what a theft case is. But RICO is not in everyday parlance," he said. "You don't see a RICO indictment on a TV show about crime."
Does the district attorney have previous experience with RICO crimes?
Yes. As an assistant district attorney in the Fulton County District Attorney's Office, Willis was the lead prosecutor in a RICO case against a group of Atlanta public school teachers in a fraud scandal. After a months-long trial, a jury in April 2015 convicted 11 former educators of racketeering for their roles in a scheme to inflate students' scores on standardized tests.
Since becoming district attorney in January 2021, she has brought multiple RICO charges against suspected gang members, including several high-profile rap artists.
Attorney John Floyd, a nationally known RICO expert in Atlanta, helped Willis in the school fraud case. Shortly after she launched the investigation into possible illegal interference in Georgia's 2020 election, she hired him as a special assistant to the district attorney to help with any racketeering cases her office might pursue.
Georgia Secretary of State Brad Raffensperger on Tuesday described attacks on his family after he failed to overturn Georgia's election results at former President Donald Trump's request.