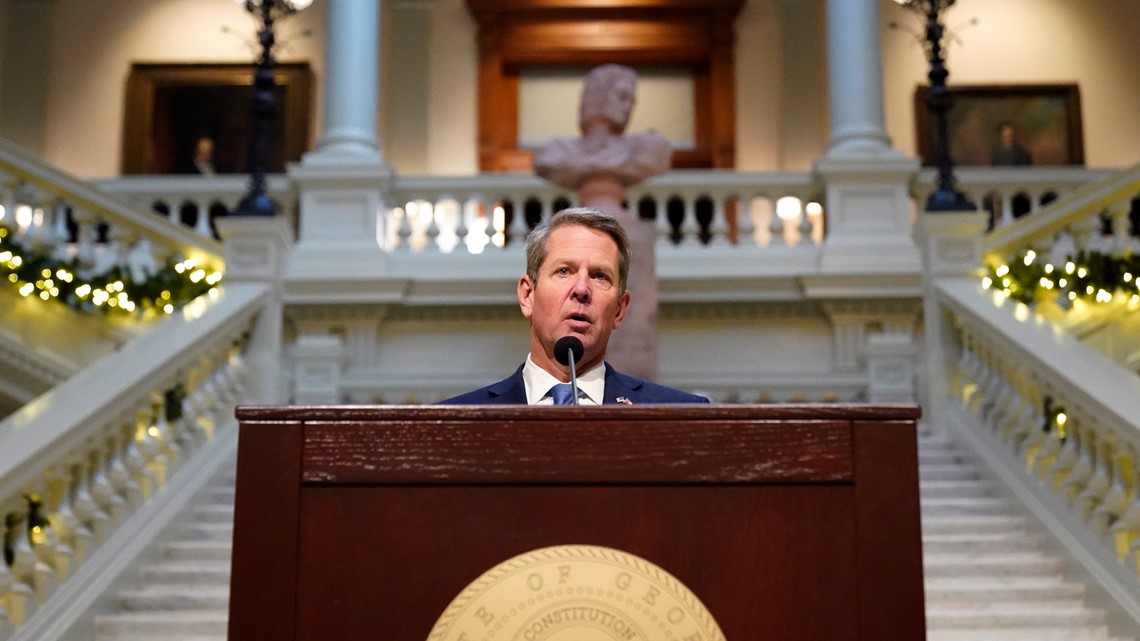 ATLANTA – As the state of Georgia continues to roll out the COVID-19 vaccine, Governor Brian Kemp and Georgian Ministry of Health Commissioner Dr. Kathleen Toomey on Tuesday morning.
The state remains in Phase 1A + of the administrative process, which includes healthcare workers, residents and long-term care workers, adults 65 and older and their caregivers – law enforcement agencies, firefighters, 911 dispatchers and first responders, if applicable.
Kemp says there has been debate about when educators, school staff, and people with developmental disabilities should be eligible for the vaccine, but he can't give a definitive answer as to when it will be possible.
"I hear your concerns and I share your hope that we will soon be able to vaccinate these deserving Georgians," he said. "The truth is, we don't have enough vaccines for those who are most at risk of serious complications or death from this virus."
Kemp says the state is only allotted 120,000 doses of vaccines per week and the state has not been informed by the federal government that they will get more than they are getting now in the future.
"Our allocation is not very large for a state our size," said Toomey.
"With nearly 530,000 Georgians vaccinated, we have not yet reached the half-time mark of the current A1 + population," repeated Kemp.
He says he doesn't expect them to have more anytime soon.
"We plan to increase supply whenever that day comes," he said.
In a previous briefing, he said that as of yesterday, the state will no longer have to give 40,000 of its weekly doses directly to nursing homes. Your supplies are now sufficient to ensure that the full 120,000 doses per week are available to everyone in Group 1A +.
Kemps says the state is working "around the clock to prepare for the next phase of vaccine distribution".
This next phase will streamline the administration process and empower more people such as dentists, pharmacists, and rescue workers to administer the vaccine.
Toomey says it could be April before the vaccine is "ramped up" enough to give him more doses.
"We hope it will be sooner," she said.
Although the vaccine is in Georgia and more people are getting the shot every day, the governor said now was not the time to get complacent. He also reiterated that hospitals cannot cope with another increase.
He says Georgians must continue to "do the right thing" and keep washing hands, social distancing, wearing masks, and following state and CDC guidelines.
Toomey insisted it was important to clear up rumors about the COVID vaccine.
"There is no evidence that Hank Aaron died from the COVID shot," she said.
There are still concerns about getting the vaccine from people across the state. Toomey says rumors like this keep the most vulnerable people from getting vaccinated.
"It is important that we quell these types of rumors," she said. "I don't want people to be stopped from getting this vaccine when their providers call them."
Kemp also thanked frontline workers and those employed in health districts across Georgia for their service to the state over the past few months.
"I ask the Georgians to be patient with them," he said.