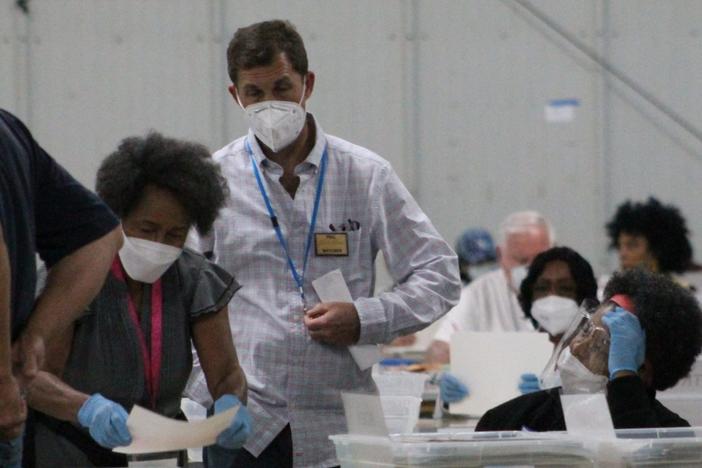 Georgia's election census process was more eye-catching this year as Democratic-elect Joe Biden defeated President Donald Trump by the gossamer.
Whose eyes were watching? It's difficult to say.
Under Georgian law, electoral observers recognized by political parties can observe while the votes are being counted. The names of these observers are in theory part of the public record, but neither the Democrats nor the Republicans have released the lists of observers attending for the first limited-risk state examination of paper votes after the November 3rd elections for the first time.
The lack of transparency has fueled the bipartisan rhetoric and rampant misinformation that has left some voters with difficulty understanding which state leaders to trust and whether to trust the electoral system at all.
Vague allegations
For Secretary of State Brad Raffensperger, the opaque rules created a major headache this fall.
The indictment of several Republican election observers on suspected fraud sparked a wave of lawsuits from the Trump campaign. Republican Party leader David Shafer's shouts on November 10 that some election observers were inaccessible caused senior election officials to try to find out who he was talking about and whether there had been any wrongdoing.
However, there is no central department that collects information on election observers in Georgia, even Raffensperger's own office, making it difficult to corroborate Shafer's claims. This sparked calls within the Secretary of State to clarify how the process works – and who should be held responsible for its shortcomings.
"GA voters deserve to know who manages the monitor programs – and it's the parties," Raffensperger tweeted on November 13, along with red emergency light emojis next to American flags.
Election observers are allowed to monitor the number of votes in Georgia through a check-and-balance system to ensure that the elections are free and fair.
The process works as follows: the parties send letters to each county where an election observer will be present prior to the election. On the day of the election or tabulation, the election observer presents the letter to the local election office, signs and takes an oath. A name tag is then issued, which must be worn during the entire process.
Election observers are prohibited from speaking to election officials, interfering in votes, taking photos, or disrupting the process in any way. This applies, among other things, to enforcement by the senior electoral officer in the individual districts.
Lax enforcement of government requirements
Yet no state official oversees how this process is unfolding across the state. That is left to election workers in the 159 different districts of Georgia. For members of the public or campaign lawyers who want to know who is overseeing ballot surveillance, it would take 159 separate requests for open records and an immeasurable amount of time to compile a list of names.
Through Georgia's voting results and recounts, some election observers have disrupted the census instead of facilitating it.
Chatham County has no record of who was present as election observer on election night. The county electoral authority should receive letters of accreditation for each observer from the parties, but it is unclear how many the county received. District officials did not respond to a request for these accreditation forms that The Current sent a month ago.
One of the election day observers in Chatham County was from South Carolina and was a registered election observer for the Republican Party of Richmond County, Georgia.
He and another Republican election observer said on an affidavit that they saw questionable behavior from county election officials. Your testimony that led to the Trump campaign's first lawsuit in Georgia – and the campaign's first lawsuit to be dismissed in Georgia.
This lawsuit was the first of eight filed in Georgia after being elected by the GOP and Trump campaigns. Three of them were fired, according to Democracy Docket, a platform created by Democratic lawyer Marc Elias that exposes laws and practices that restrict the right to vote.
During the government-mandated presidential scrutiny, the Carter Center was the only non-partisan group that observers observed this record. The Democracy Program deployed 68 monitors in 28 counties, including Chatham County.
In many places, Republican Party election observers outnumbered those of the Democratic Party, the Carter Center said.
It documented several cases where the behavior of Republican observers "was perceived as potentially intimidating to accountants or where it became more aggressive," according to a preliminary report to the secretary of state.
In a few cases problematic observers were led out of the building. In four counties the Carter Center did not name, such disruptions resulted in ballot counting being interrupted, according to the report.
In Chatham County, one or two election observers were "slightly problematic" throughout the voting process, said election officer Russell Bridges.
During the review process, the second number of votes, despite a ban on this behavior, the election observers spoke to the county officials who were counting the ballots at a table. "They got a bit of abrasion and one person from the Republican group who was there acted as a buffer," said Bridges.
Bridges did not name the disturbing watchers whom he had left after the kerfuffle and who were never seen again. Anyone could come in and watch the list from the public observation area, but a sheriff's deputy stood at the entrance to the area where the votes were counted. Election observers were instructed to sign a protocol to document entry and exit in this area. Even so, some of the signatures were scrawled and illegible, making it impossible to verify who they were. Others didn't bother to sign out.
What observers see
In Georgia, political parties have a responsibility to prepare election observers on how the process works and how to be effective observers. After all, party monitors are really supposed to take care of their party and their candidates.
The Carter Center report states that partisan polling observers were inconsistent or poorly trained in how the state's limited risk audit works. It is the first time Georgia has received a handcount of paper votes produced by the new voting machines.
In addition, few election observers appeared to be gathering or recording information about what they saw in order to suggest how it could be improved, said David Carroll, director of democracy program.
"It's a missed opportunity when there are observers doing all of this work and not really systematically gathering their information and putting it into some kind of summary report with recommendations," to improve the process, Carroll said. "Some groups are just looking for issues to report and they might file a lawsuit … or they might want to bother them."
Death threats
Election workers, electoral officers and even the foreign minister have threatened their lives since the November 3rd elections.
With votes still being counted two days after the election, a Chatham County election board member received several threatening phone calls. The caller said, "You'd better stop counting those illegal votes."
In Fulton County, a poll worker went into hiding after an unnamed person in the absentee vote processing area tweeted a video throwing paper away. The unnamed narrator said the poll worker discarded a ballot.
"He just discarded a list of instructions that were put in one of the envelopes," said Richard Barron, election officer for Fulton County, at a press conference. "The only thing you do at this station is separate and open the envelope."
The poller's personal details, including his home address and license plate number, were posted online. He had to close his social media accounts for death threats and harassment.
Only electoral workers and electoral observers with proof of eligibility are allowed in the area where the video was recorded.
"Personally, I find it shameful," said Barron.
Even so, President Donald Trump continues to tweet false allegations of skull digging and widespread fraud while insisting he won.
This story comes to GPB through a reporting partnership with The Current, which features impartial, solution-based investigative journalism with no bias, fear, or favor, and with a clear focus on issues affecting Savannah and Coastal Georgia.