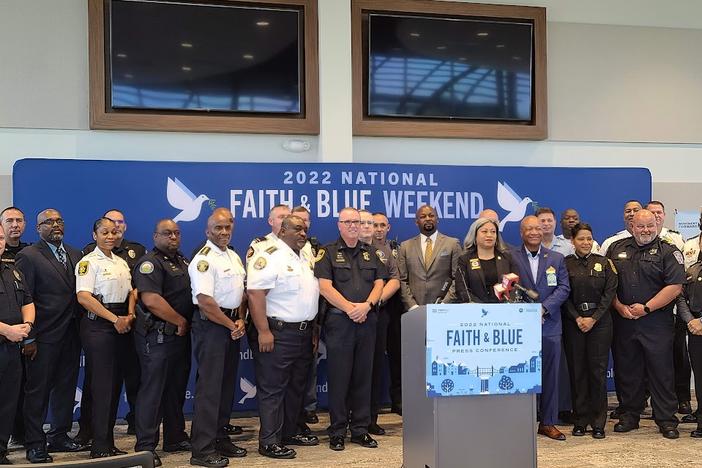 Local, state, and federal law enforcement officials across Georgia are joining an initiative to improve public relations and reduce violence.
Faith and Blue was founded in 2020 by Rev. Markel Hutchins. Amid a spate of violent crime, Hutchins said greater cooperation between police and local residents can lead to change.
"The solutions to the challenges of crime and violence, and the trust, reside in the hearts and minds of every community resident and law enforcement worker," he said. "And that's why we want the community to come together with law enforcement."
The organization links religious groups such as churches, temples and mosques with the police. Atlanta Deputy Police Commissioner Timothy Peek said he hoped these partnerships would help reach people outside of the churches.
"Every church has a congregation, and that congregation also has many members," Peek said in an interview with GPB. "This family has … a number of associates. So when we spread information, we hope someone will be able to touch every single person, even if it's through social media."
From Oct. 7-11, counties across the state and country will hold events for officers to connect with the communities in which they work. Events include community dialogues, meet and greets, picnics and community service projects.
However, rebuilding trust in the police could take time.
The Georgia NAACP recently asked the Justice Department to investigate the Atlanta Police Department for unfair policing. The group made the announcement after the special counsel announced that no charges would be filed against the two Atlanta Police Department officers involved in the 2020 death of Rayshard Brooks.