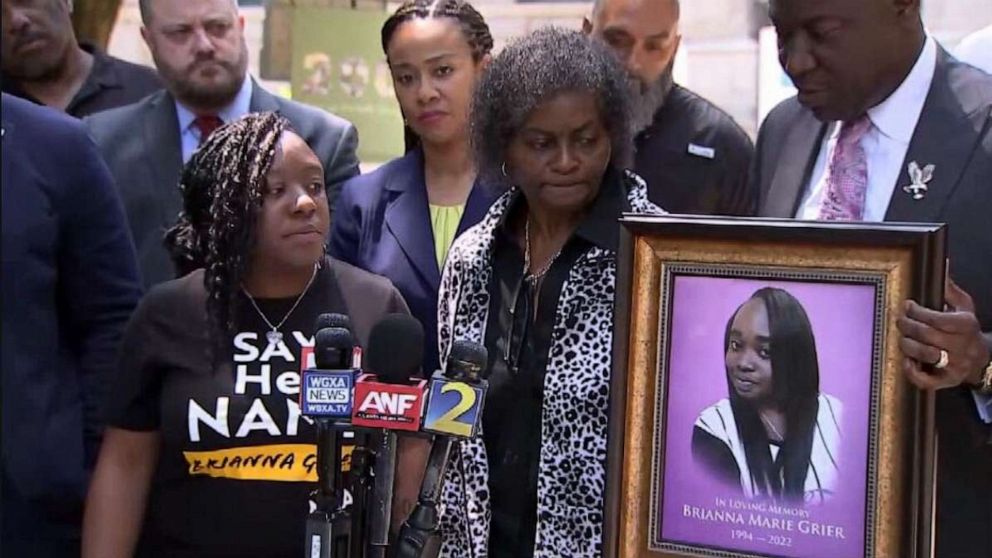 The lawsuit comes after prosecutors declined to present the case to a grand jury.
May 24, 2023 3:23 PM ET
• 6 min read
Family members of Brianna Grier, the Georgia woman who died last year after falling from a moving police vehicle, said they would file a lawsuit against officers involved in the incident.
In the lawsuit, available to ABC News, Lt. Marlin Primus, Deputy Timothy Legette and Hancock County Sheriff Tomlyn Primus named as defendants.
The lawsuit alleges that officers "unlawfully and intentionally seized and detained the deceased, falsely arrested the deceased, handcuffed her unnecessarily, lifted and dropped her multiple times, ignored her cries for help, and deprived her of medical care and injured her." ." head and brain and eventually caused her death."
Speaking at a news conference on Wednesday, Brianna Grier's mother, Mary Grier, said officials were aware of Grier's mental health issues. "I don't think they proved her right," she said.
According to Mary Grier, her daughter was "a good person" who was struggling with her mental health, and what happened to her "was not her fault."
Mary Grier said when her granddaughters — Brianna Grier's twin daughters — asked about her mother, "we told them she went home to live with God."
(Left to right) Brianna Grier's sister Lottie Grier, mother Mary Grier and Ben Crump look at a photo of Brianna Grier at a news conference announcing a lawsuit after Brianna Grier exited a police vehicle while in custody was thrown.WSB
ABC News' requests to the Hancock County Sheriff's Office for comment were not responded to.
ABC News' attempts to reach the officials named in the lawsuit directly have been unsuccessful. It is unclear if they have hired lawyers.
The Georgia Bureau of Investigation, which conducted an independent investigation into the incident, closed Grier's case last year and found that she fell out of the moving police vehicle because the door wasn't properly closed.
Ocmulgee Judicial Circuit District Attorney T. Wright Barksdale III reflected on his decision not to bring the case before a grand jury in an interview with ABC affiliate WGXA in Macon, Ga., last November, saying his decision fell after his office reviewed the GBI report.
"We didn't take the decision lightly," he said. "Based on the facts and evidence that we have, there is nothing criminal on the part of these two MPs."
ABC News has reached out to Barksdale for further comment, but has received no response.
An undated photo of Brianna Grier provided by her family's attorney.Ben Crump Law on WSB
Grier, a 28-year-old mother of two, was arrested by Primus and Legette on July 15, 2022 after Grier's mother called 911 to report that her daughter was experiencing a mental health crisis.
Body camera footage released by the GBI on July 29, 2022 shows Grier defying officers as they tried to put her in the squad car. The 10-minute clip shows officers trying to put Grier in the back seat of the police car, but not how she eventually fell out of the moving vehicle.
A summary of the final GBI report on Grier's death stated: "Grier's only way of exiting the vehicle at the time of the arrest was through an already open, unlocked rear passenger door. It was clear from the investigation that Deputy Legette and Lt. Primus didn't know the door wasn't closed. The report also stated, "A 'door ajar' indicator light was visible on the vehicle's instrument cluster."
A medical assessor from GBI's Department of Forensic Sciences determined that Grier's cause of death was "blunt force head trauma" with "delayed complications" and that her manner of death was classified as "accidental". An independent autopsy ordered by Grier's family also lists severe blunt trauma to the head as the cause of death.
Barksdale told WGXA that he understands why the family would file a civil suit, but added, "What the community needs to understand is that I am committed to following the law and applying the evidence and facts."
He added that Grier's case underscores the need for mental health care reform and "the need to put more resources into this state to meet those needs."
ABC News' Kendall Ross contributed to this report.