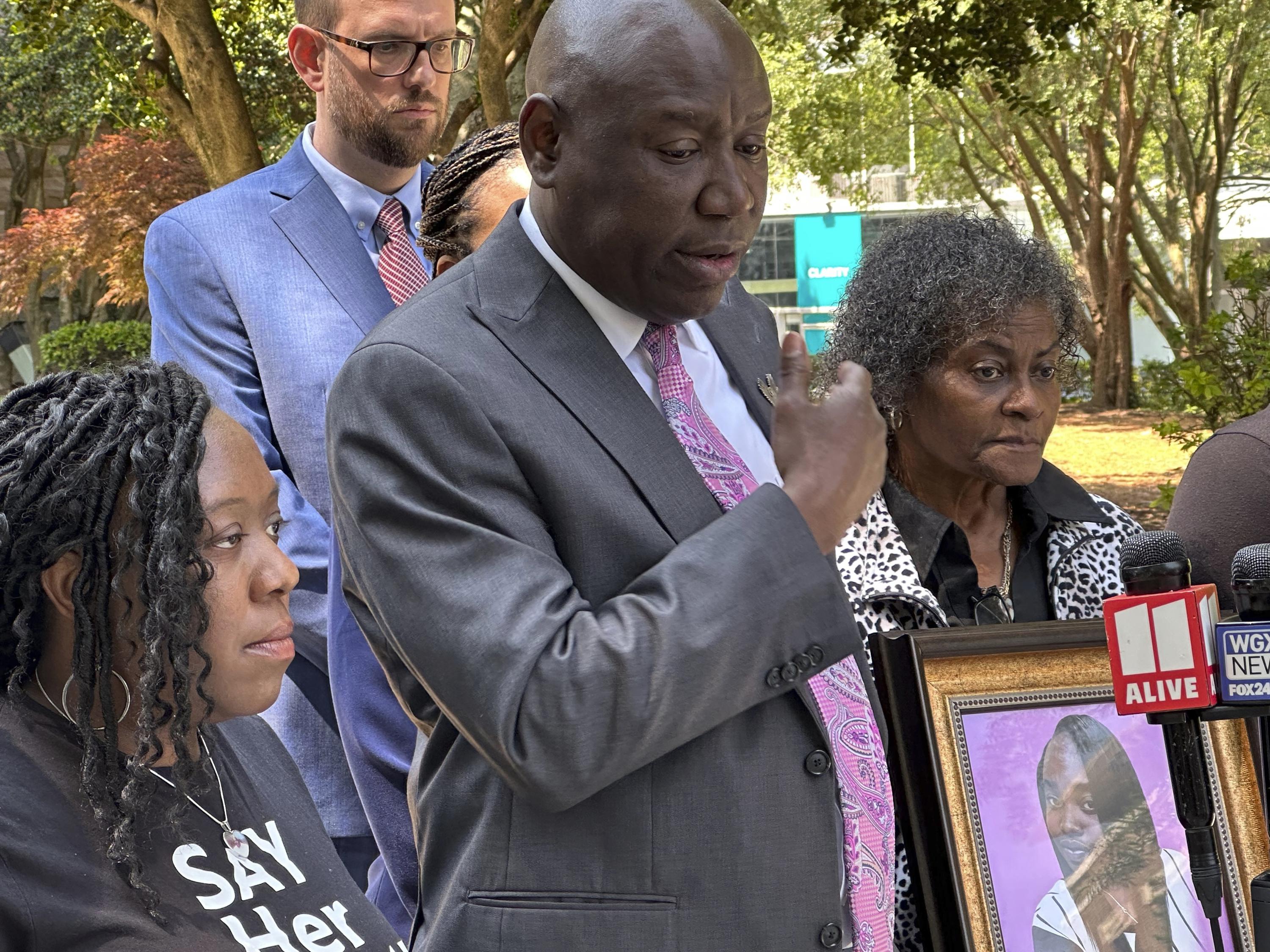 DECATUR, Ga. (AP) – The family of a Georgia woman who died last year after falling from a moving squad car have filed a civil rights lawsuit, alleging sheriff's deputies unlawfully arrested her and ultimately caused her death Lawyers announced on Wednesday.
The Georgia Bureau of Investigation found that the officers who put Brianna Grier in the back seat of a squad car to take her to the Hancock County Sheriff's Office did not close the rear passenger door before driving off. The 28-year-old woman suffered brain trauma in the July 15 fall when she banged her head open and remained in a coma until she died in an Atlanta hospital on July 21, her family said.
The federal wrongful death lawsuit filed Tuesday accuses Hancock County Sheriff Tomlyn Primus, his brother Lt. Marlin Primus and his deputy, Timothy Legette, charged gross negligence that led to Grier's death. A person who answered the phone at the sheriff's office Wednesday was left a message asking for comment.
Grier was arrested after sheriff's deputies were called to her parents' home in Sparta. Her family called 911 for help because Grier was going through a mental health crisis, said prominent civil rights attorney Ben Crump, who represents Grier's family.
"There is no excuse, no justification as to why Brianna Grier is dead and why she died in such a horrific way when she fell out of an unsecured police vehicle on the freeway and her head collided with the concrete in the road," Crump said during one Press conference announcing the lawsuit on Wednesday.
Officers put Grier in the back seat of a squad car, but she was unbelted, her hands were handcuffed in front of her and the rear passenger door was never closed, according to GBI investigators.
The GBI announced in November that its investigation was complete and that the Ocmulgee District Attorney had decided not to bring the case before a grand jury because of possible charges.
"My baby, Brianna Grier, she wasn't an animal. She wasn't a bad person," Grier's mother, Mary Grier, told reporters. "She just had some issues that she couldn't control."
Grier's family had previously asked law enforcement for help about her episodes, and responding officers were aware of her past as diagnosed schizophrenia and knew she was having "an acute mental health episode," the lawsuit says.
Attorney Eric Hertz, another attorney for the family, said there is a major problem in Georgia with the way police treat people with mental health problems.
"This is not the first incident, but we hope it will be the last," he said. "In this case, our goal is to get the highest verdict that Georgia has ever seen in a case of this nature, to send a signal to the very top that this shouldn't be happening."
Attorney Gerald Griggs, president of the Georgia NAACP, said that mental health services in Georgia must be fully funded and that every police department should be required to dispatch crisis intervention workers for mental health calls.
"Brianna Grier should be here raising her two beautiful daughters instead of us standing in front of a courthouse demanding justice for them," Griggs said.
Mary Grier said her five-year-old twin granddaughters, Maria and Mariah, kept asking about their mother. Mary Grier's husband — Brianna's father — died a few months after Brianna, and she said she felt "broken, really broken."