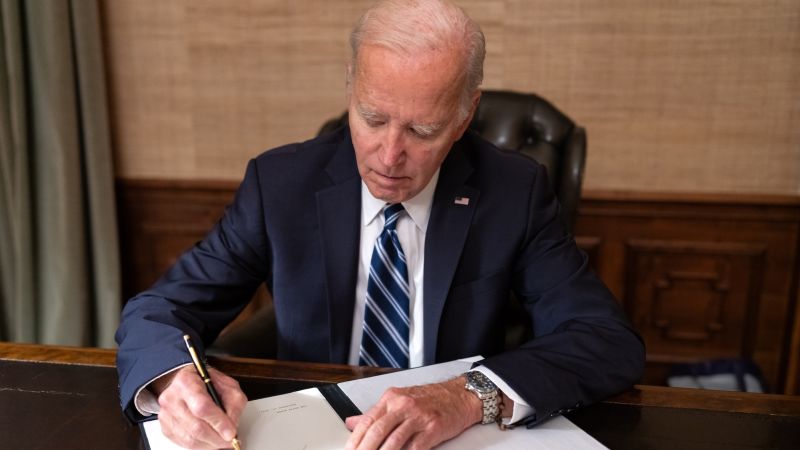 CNN
 — 
Generation X, the roughly 65 million people born between 1965 and 1980, witnessed many innovations: MTV, web browsing, digital music downloads and smartphones, to name just a few. They were also the first generation to enter the workforce after the shift from employer-run pension plans to 401(k)-style accounts. But when it comes to saving for retirement, most Gen Xers appear to have missed the memo.
Here's what else you need to know to Start Your Week Smart.
Get '5 things' in your inbox

• President Biden signed into law the stopgap bill to avert a government shutdown passed by Congress just hours ahead of a critical midnight deadline when funding for federal agencies was set to run out. The measure will keep the government open through November 17. Follow live updates.
• A grand jury indicted Duane Keith "Keffe D" Davis on charges of murder with use of a deadly weapon in connection with the 1996 killing of rapper Tupac Shakur, Las Vegas authorities announced. Shakur was shot and killed while leaving a boxing match on the Las Vegas Strip.
• One of Donald Trump's co-defendants pleaded guilty to five counts in the 2020 election subversion case in Georgia. Bail bondsman Scott Hall, 59, is the first defendant in the case to take a plea agreement with prosecutors.
• In an impassioned speech, departing Joint Chiefs Chairman Gen. Mark Milley defiantly proclaimed that the US military does not swear an oath to a "wannabe dictator." It was a pointed swipe at Donald Trump, who has accused Milley of "treason."
• Democratic Sen. Dianne Feinstein, whose three decades on Capitol Hill made her the longest-serving female senator in history, died at age 90. Feinstein was a fixture of California politics for decades and was first elected to the Senate in 1992 after a historic political career in San Francisco.
Monday
Talks are set to resume between striking actors and studio representatives, two-and-a-half months after the more than 160,000 members of the SAG-AFTRA union went on strike and one week after the Writers Guild of America and the Alliance of Motion Picture and Television Producers reached a tentative contract agreement. SAG-AFTRA and the WGA have both sought contract changes related to streaming residuals and artificial intelligence. Actors are also asking for better relocation expenses for actors working out of state or country and limited long breaks between television seasons in order to give actors more stability while under contract. SAG-AFTRA has been on strike since July 14.
It's the beginning of Nobel Prize week. The 2023 Nobel Prizes for Physiology or Medicine, Physics, Chemistry and Literature will be announced Monday through Thursday, respectively, ending with the Nobel Peace Prize on Friday. The Sveriges Riksbank Prize In Economic Sciences, created in memory of Alfred Nobel, will be announced the following week.
Tuesday
President Joe Biden's son, Hunter Biden, is set to be arraigned on three criminal charges stemming from a gun he purchased in 2018. Hunter Biden had sought to appear virtually for his first court hearing, but a judge denied his request last month. It's the first time in US history that the Justice Department has charged the child of a sitting president.
October 3 is also "Mean Girls" Day — a nod to the 2004 cult classic comedy. Why October 3? Find out here.
Wednesday
Tens of thousands of Kaiser Permanente workers are preparing to walk off the job in what would be the largest strike of health care workers in history. More than 75,000 employees who work at hundreds of Kaiser Permanente facilities across California, Colorado, Oregon, Washington, Virginia, and Washington, DC, plan to strike Wednesday through Saturday. The union representing the workers is demanding better pay, adequate staffing levels and guaranteed performance bonuses.
Be prepared for your mobile phone to go off when FEMA and the FCC conduct a nationwide test of the Wireless Emergency Alert System at about 2:20 p.m. ET. And if you happen to also be watching TV or listening to the radio at that time, you'll get a double dose of alerts. Basically, don't schedule any meetings for that time.
Finally, it's National Vodka Day — which is terrific timing as you might need a stiff drink after all those alerts go off simultaneously.
Friday
The Bureau of Labor Statistics will release the monthly employment report for September. In the prior month, the economy added 187,000 jobs — roughly in line with the monthly average seen from 2010-2019 and a figure that was considerably below the white-hot job gains that marked the pandemic recovery. August's somewhat better-than-expected total marked the 32nd consecutive month of job growth.
Saturday
As proof that there is indeed a day for everything (see above), October 7 is National LED Light Day. Why? In 2014, the Nobel Prize in Physics was awarded to three researchers who had invented a new energy-efficient and environment-friendly light source — the blue light-emitting diode (LED) — which enabled the development of bright and energy-saving white light LED lamps that last far longer than traditional light bulbs.
One Thing: Hunter Biden FAQ
In this week's One Thing podcast, CNN's Kara Scannell gets us caught up on the legal issues surrounding Hunter Biden and how they are fueling political drama for his father, President Joe Biden. Listen here for more.
Alain Jocard/AFP/Getty Images
People who fled Nagorno-Karabakh sit on a bus after registering at the Armenian Ministry of Foreign Affairs near the border town of Kornidzor on Sunday, September 24.
Brian Snyder/Reuters
Asylum seekers wait behind razor wire after crossing the Rio Grande as they attempt to enter the United States in Eagle Pass, Texas, on Wednesday, September 27. The Defense Department is ramping up resources at the US-Mexico border as officials describe a surge in border crossings in places such as Eagle Pass, where the mayor has declared a state of emergency.
Yara Nardi/Reuters
Restorer Eleonora Pucci cleans dust and debris off Michelangelo's statue of David using a backpack vacuum and synthetic fiber brush at the Galleria dell'Accademia, in Florence, Italy, on Monday, September 25.
Hadi Mizban/AP
Friends and relatives attend the funeral of people who died in a fire during a wedding ceremony in Hamdaniya, Iraq, on Wednesday, September 27. The fire killed at least 100 people and injured 150 others.
David Eulitt/Getty Images
Taylor Swift reacts during a game between the Chicago Bears and Kansas City Chiefs at Arrowhead Stadium in Kansas City, Missouri, on Sunday, September 24. Swift's show of support comes after weeks of speculation that she and Chiefs tight end Travis Kelce are dating, though the two have not publicly confirmed any romantic link.
Gareth Fuller/PA/AP
A Royal National Lifeboat Institution vessel crashes through waves during a multi-agency exercise to test emergency response at Camber Sands, England, on Thursday, September 28.
Mengshin Lin/AP
Resident Chuck Hogan and his parrot, IIlani, are pictured during an interview in Lahaina, Hawaii, on Monday, September 25. A small group of Lahaina residents returned to their devastated properties for the first time since the Hawaiian town was destroyed by a wildfire nearly seven weeks ago.
Aijaz Rahi/AP
Artists perform during the opening ceremony of the Asian Games in Hangzhou, China, on Saturday, September 23.
Jeenah Moon/AP
Democratic Sen. Bob Menendez arrives at the federal courthouse in New York on Wednesday, September 27. Menendez pleaded not guilty to charges relating to an alleged bribery conspiracy involving payments in exchange for the senator's influence.
Steph Chambers/Getty Images
Ja'Lynn Polk of the Washington Huskies catches a touchdown pass against the California Golden Bears in Seattle, Washington, on Saturday, September 23.
Rafiq Maqbool/AP
An idol of the Hindu god Ganesha is carried through the streets of Mumbai, India, on the final day of a 10-day long festival on Thursday, September 28.
Leah Millis/Reuters
US House Speaker Kevin McCarthy talks to members of the media on Capitol Hill in Washington, DC, on Tuesday, September 26. McCarthy has signaled that there is not sufficient support in the House for the bipartisan Senate stopgap bill that would keep the government open through November 17. McCarthy has instead outlined a different course of action, saying the House will consider a separate conservative stopgap bill with border provisions. Government funding is slated to run out on September 30.
Justin Setterfield/Getty Images
Peter Kauzer of Slovenia competes in a men's kayak heat during the Canoe Slalom World Championships in London on Thursday, September 21.
Dylan Martinez/Reuters
Fencers compete during the Asian Games in Hangzhou, China, on Sunday, September 24.
Bill Ingalls/NASA
NASA astronaut Frank Rubio is helped out of the Soyuz MS-23 spacecraft after he and his two Russian colleagues — cosmonauts Sergey Prokopyev and Dmitri Petelin — landed in a remote area near the town of Zhezkazgan, Kazakhstan on Wednesday, September 27. Rubio's mission is the longest single spaceflight by a US astronaut in history.
Erik S Lesser/EPA-EFE/Shutterstock
Vincent Thian/AP
A Chinese national flag is hoisted during a medal ceremony at the Asian Games in Hangzhou, China, on Tuesday, September 26.
Kevin Frayer/Getty Images
People line up to buy the newly launched iPhone 15 and other Apple products outside a store in Beijing on Friday, September 22.
Lisa Marie David/Reuters
A woman sorts fish at a port in Masinloc, Philippines, on Wednesday, September 27.
Jose Luis Gonzalez/Reuters
Migrants from Guatemala climb through a wire fence after crossing the Rio Grande in El Paso, Texas, on Friday, September 22.
Caitlin O'Hara/Bloomberg/Getty Images
Nathan Ray Seebeck/USA Today Sports/Reuters
Miami starting quarterback Tua Tagovailoa celebrates on the sidelines after his team scored a touchdown against the Denver Broncos in Miami on Sunday, September 24. Miami won the game 70 to 20.
Maxar Technologies/Reuters
Mark J. Terrill/AP
From left, former UN Ambassador Nikki Haley, Florida Gov. Ron DeSantis, businessman Vivek Ramaswamy and Sen. Tim Scott argue during the second Republican presidential primary debate in Simi Valley, California, on Wednesday, September 27.
Michael Probst/AP
Young Icelandic mares graze on a meadow in Wehrheim, Germany, on Tuesday, September 26.
Alexi J. Rosenfeld/Getty Images
Damian Williams, US attorney for the Southern District of New York, speaks during a news conference on Friday, September 22, after announcing an indictment of Sen. Bob Menendez. Federal authorities allege Menendez and his wife accepted a luxury Mercedes, envelopes full of cash and multiple bars of gold in exchange for influence and favors.
Jon Durr/USA Today Sports/Reuters
United States forward Megan Rapinoe celebrates after her corner kick led to a goal during a match against South Africa in Chicago, Illinois, on Sunday, September 24. This was Rapinoe's final match before retirement.
Ohad Zwigenberg/AP
An ultra-Orthodox Jewish man holds a chicken as part of the Kaparot ritual in Jerusalem on Thursday, September 21.
Check out more images from the week that was, curated by CNN Photos.
TV and streaming
"The Simpsons" — the longest-running prime-time scripted show in television history — kicks off its historic 35th season on Fox tonight.
The second season of Marvel Studios' "Loki" lands on Disney+ on Thursday. Season 1 ended more than two years ago, so here's a spoiler-filled recap of the season finale from CNN's own Brian Lowry to help jog your memory.
In theaters
"The Exorcist: Believer" creeps into theaters Friday, roughly 50 years after the release of the original 1973 film. Also returning to the franchise after five decades is Oscar winner Ellen Burstyn, who is reprising her role of Chris MacNeil, mother of head-twisting, levitating Regan. "The Exorcist: Believer" was originally set to open on Friday, October 13. However, when the "Taylor Swift: The Eras Tour" movie set its release for the same day — prompting the hashtag #Exorswift — "Exorcist" producer Jason Blum moved up the release date by a week, later telling Entertainment Weekly "The one thing that scares me to death is Taylor Swift!"
At a glance …
It's a busy day today for early risers. The final day of the 44th Ryder Cup is underway at Marco Simone Golf Club outside Rome. Team Europe stunned Team USA Friday, preventing the Americans from winning a single match on Day One. The European team held a commanding 10.5-5.5 lead entering today's singles matches.
The NFL is back in London this morning. The Atlanta Falcons are taking on the Jacksonville Jaguars at Wembley Stadium.
The WNBA postseason continues today with the New York Liberty playing the Connecticut Sun. That series is tied 1-1. The Las Vegas Aces closed out the Dallas Wings to advance to the WNBA Finals.
And finally, Major League Baseball's postseason gets underway Tuesday with the start of the Wild Card Series in both leagues. The American League Division Series and the National League Division Series begin Saturday. The first game of the World Series is slated for Friday, October 27.
For more of your favorite sports, head on over to CNN Sports as well as Bleacher Report, which — like CNN — is owned by Warner Bros. Discovery.
Looking for a challenge to start your week? Take CNN's weekly news quiz to see how much you remember from the week that was! So far, 56% of fellow quiz fans have gotten eight or more questions right. How will you fare?
'Wake me up when September ends'
Consider this a reminder that today is October 1. Rabbit, rabbit … (Click here to view)