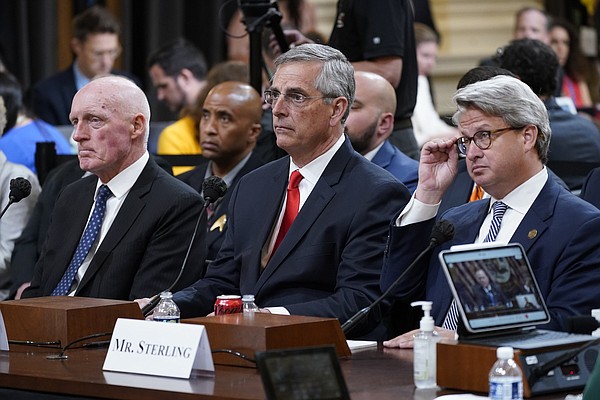 NASHVILLE — Georgia Secretary of State Brad Raffensperger said he has no idea why Russia's "autocratic regime" included him on the list of 500 Americans now banned from entering the country.
Still, the Republican is not unhappy to be on the list of people released by the Russian ministry in response to "regularly anti-Russian sanctions" imposed by "the Joe Biden administration."
"Although I was previously unaware of my anti-Russian activities, I accept the verdict of Russia, whose commitment to truth, justice and the rule of law speaks for itself," Raffensperger said happily. "I imagine that my commitment to free, fair and correct elections, my penchant for telling the truth to those in power, and my strong stance against war crimes would offend President Putin's sensibilities. I accept that I'm not their thing for Russia."
"My inclusion on this list is well deserved and I appreciate that they are thinking of me," Raffensperger added, noting that he had no intention of traveling to Russia.
The list of persona non grata types includes prominent Democrats, including former President Barack Obama, three Republican US Senators, and others. According to the Russian Foreign Ministry, crimes include spreading "Russophobia" and supplying arms to Ukraine. The department also claimed that individuals on the list were "directly involved in the pursuit of dissidents in the wake of the so-called "Capitol Storm," a nod to the January 6, 2021 attack on the US Capitol as Trump supporters. ' disrupted the official vote count in the presidential elections.
After the 2020 presidential election, Raffensperger came under pressure from then-President Donald Trump and his advisors to find more votes for Trump and recoup his narrow defeat in Georgia.
A Fulton County grand jury was convened, and the panel, along with District Attorney Fani Willis, began an investigation focused on whether Trump and others broke the law. Willis has suggested in a letter to a judge that charges be filed in the case in August, The Associated Press reported last week.
Raffensperger had previously testified before the grand jury.
In 2021, the National Intelligence Council declassified parts of a report on Russian activities during the 2020 presidential election.
"We understand that President Putin and the Russian state approved and conducted anti-election manipulation to denigrate President Biden and the Democratic Party, support former President Trump, increase public confidence in the election process "Unlike in 2016, we have not seen sustained Russian cyber efforts to gain access to electoral infrastructure," the report said.
Bill Haslam's New Role: National Co-Chair for Tim Scott's Presidential Efforts
Former Tennessee Gov. Bill Haslam has agreed to serve as the national co-chair for Republican Sen. Tim Scott of South Carolina's 2024 presidential nomination.
"One of the things I've learned from my tenure is that it really matters who we elect," Haslam, who served as governor from 2011 to 2019, told Politico last week. "The more I spoke to Tim, the more convinced I became that he has a message that the country really needs to hear now."
Scott filed filings with the Federal Elections Commission on Friday declaring his intention to seek the Republican Party nomination in 2024.
Trump has already declared his candidacy, while Florida Gov. Ron DeSantis is reportedly preparing to make his formal announcement later this month.
In 2016, Haslam called on then-candidate Trump to step down after the release of Access Hollywood, in which Trump made offensive comments about women. He said he would not vote for Democratic nominee Hillary Clinton.
Bill Lee's political future
Republican Governor Bill Lee, who was re-elected in a landslide in 2022, was recently asked about his political future while addressing business leaders at a conference at Lipscomb University in Nashville, where a moderator noted that Lee had been mentioned as a potential presidential candidate.
"National media — they're not in Tennessee," Lee said. "My political – my public service ambitions are to do solid service over the next three and a half years."
"I am honored to do what I do," the governor said, noting that he has no interest in running for president or as a vice presidential nominee. "My plan is to work as hard as I can over the next three and a half years to improve the lives of every Tennessee resident — and then get back to the farm."
Contact Andy Sher at asher@timesfreepress.com or 615-285-9480.