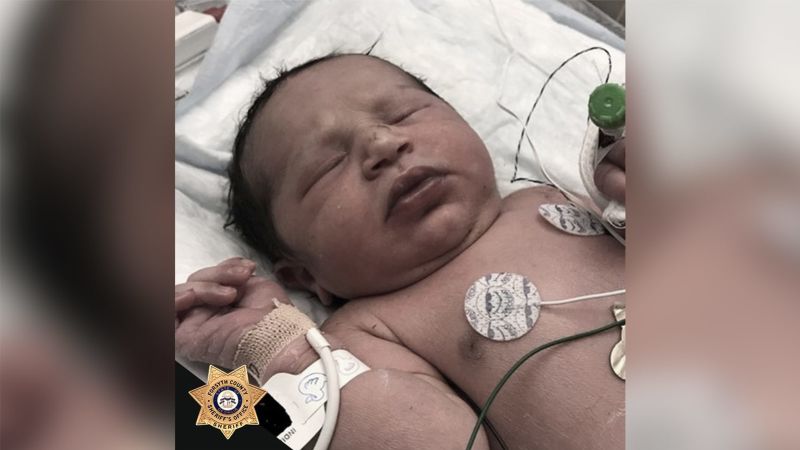 from the Forsyth County Sheriff's Office
The mother of the infant known as "Baby India," who was found abandoned in a Georgia wooded area on June 6, 2019, has been arrested and charged in the case, authorities said

CNN
—
Almost four years after an abandoned newborn baby girl was found alive in a plastic bag in a wooded area in northern Georgia, authorities have identified and arrested the child's mother.
Officers with the Forsyth County Sheriff's Office arrested 40-year-old Karima Jiwani on Thursday on charges of criminal attempted murder, first degree cruelty to children, aggravated assault and reckless abandonment.
The sheriff's office identified the child's father about a decade ago using advanced DNA investigative methods and family DNA, Forsyth County Sheriff Ron Freeman said during a news conference Friday.
Last week, DNA helped the sheriff's office identify Jiwani as the mother of the child being dubbed "Baby India," Freeman said.
The baby was believed to be just a few hours old when a family in Cumming, Georgia, about 40 miles north of Atlanta, heard what they thought were animal sounds coming from a wooded area on June 6, 2019.
Forsyth County Sheriff
According to the Forsyth County Sheriff's Office, Karima Jiwani faces a number of charges for abandoning her baby in 2019.
Body camera footage of the responding police officers showed the crying child, wrapped in a yellow plastic bag with the umbilical cord still attached.
According to Freeman, baby India's birth likely took place in a vehicle.
Further evidence revealed that after the birth, Jiwani rode with the child in the car for a "considerable amount of time, until she decided to tie the baby in a plastic bag and dump it in the woods to die," Freeman said.
CNN has not been able to determine if Jiwani has an attorney.
Freeman said the evidence gathered during the investigation led authorities to believe Jiwani was likely alone when the child was abandoned.
According to the sheriff's office, Jiwani, who lived in southeastern Forsyth County, cooperated with investigators throughout the investigation.
Authorities said they could not discuss the motives or details of what Jiwani told investigators as the case is pending.
"There is little explanation as to how this came about, and no motive can justify this decision," Freeman said. "Jiwani made no move to leave this child behind, not just under "Safe Haven Act" but this child could be found anywhere."
Under Georgia's Safe Place for Newborns Act, also known as the Safe Haven Law, mothers cannot be prosecuted if they leave their baby with volunteers or staff at a medical facility or at a fire or police station, it said Georgia Department of Human Services.
Georgian law applies to children 30 days old or younger.
The sheriff's office investigation determined that Jiwani had done it a history of "hidden and covert pregnancies and surprise births," Freeman said, adding digital evidence that suggested she knew about this particular pregnancy for a period of time and "went to the extremes to hide it."
"At this time there is no evidence that the father was aware of the pregnancy or the abandonment of the baby," the sheriff added.
Freeman didn't share details on baby India's current status on Friday, but said she was "happy, healthy and in a safe place."