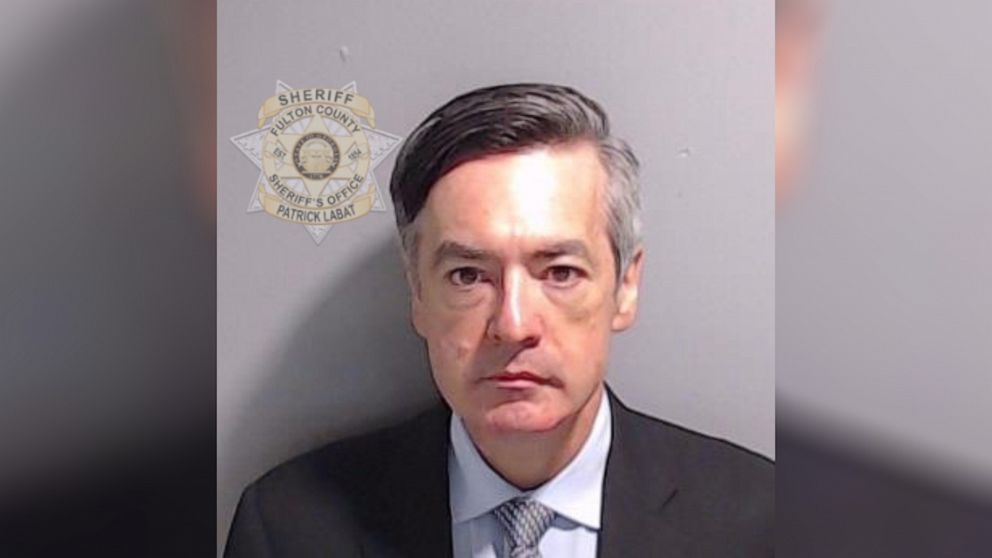 Chesebro, a key defendant among the 19 defendants, agreed to testify in the case.
October 20, 2023, 2:14 p.m. ET
• 5 minutes read
Kenneth Chesebro, a key co-defendant in former President Donald Trump's election interference case in Georgia, reached a last-minute deal agreeing to testify in the case.
Chesebro pleaded guilty to a single felony count of conspiracy to file false documents and will receive five years of probation and a $5,000 fine in exchange for agreeing to testify and provide documents and evidence.
The agreement is the first felony plea deal between the 19 defendants in the case. Two other defendants also made deals.
Chesebro's deal came after the jury selection process in his case began on Friday.
Chesebro, an attorney, faced seven counts after prosecutors said he devised a strategy to use so-called "alternative voters" to prevent Joe Biden from receiving 270 electoral votes in the 2020 presidential election, according to the district attorney's indictment of Fulton County.
"How do you plead to Count 15, conspiracy to file false documents…?" the prosecutor asked during Chesebro's court appearance Friday in Atlanta.
"Guilty," Chesebro replied.
Chesebro, who lives in Puerto Rico, told Fulton County Judge Scott McAfee that he was willing to stay in town for a few days to negotiate the "logistics" of his parole.
Kenneth Chesebro is seen in a mugshot provided by the Fulton County Sheriff's Office in Georgia on August 23, 2023.Fulton County Sheriff's Office
Before concluding, Chesebro addressed the judge directly and said, "I just want to thank you for the way you handled this process."
Outside the courthouse, Chesebro's attorney called the agreement "too good to refuse."
"He can now go home to his family … and not spend a day in jail," said attorney Scott Grubman. "He was facing very, very serious charges."
Still, Grubman said Chesebro was "mistakenly" described as the "architect" of the so-called fake election plan.
"If that were true, would the prosecutor have offered him probation?" Grubman asked.
Asked by ABC News whether Trump should be concerned about Chesebro's possible statement, Grubman said, "I don't think so."
"He's a man of his word," he said of Chesebro. "If he is called, he will testify."
Trump's attorney in Georgia, Steve Sadow, said it was significant that prosecutors agreed as part of the plea deal to dismiss racketeering charges that accused Chesebro of participating in a larger criminal scheme.
"It is very important that everyone acknowledges that RICO [racketeering] "The charges … were dismissed," Sadow said. "I fully believe that truthful testimony would benefit my defense strategy."
Chesebro's plea comes a day after former Trump campaign lawyer Sidney Powell took a plea deal in which she received probation in exchange for agreeing to testify. Prosecutors had accused her of helping tamper with voting machines in Coffee County to overturn the election.
Powell and Chesebro were originally scheduled to stand trial next week after both called for speedy trials.
Sources said Chesebro rejected a similar deal with the state last month, as ABC News first reported.
Powell, Chesebro, Trump and 16 others pleaded not guilty to all charges in August in a sweeping indictment over alleged efforts to overturn the results of the 2020 election in the state of Georgia.
Georgia bail bondsman Scott Hall took a plea deal last month in which he pleaded guilty to tampering with voting machine equipment and received probation in exchange for agreeing to stand trial against other co-defendants to testify.