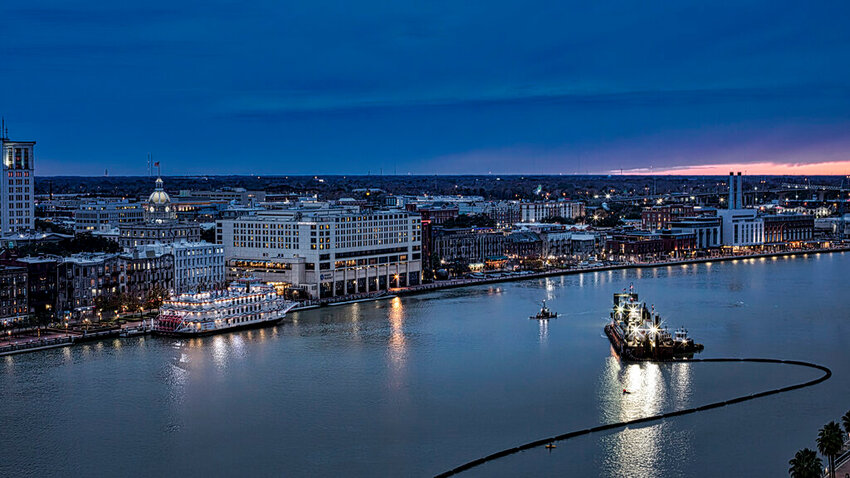 By DAVE WILLIAMS, Capitol Beat News Service
ATLANTA – Gov. Brian Kemp on Monday urged members of Georgia's congressional delegation to support a request from the Georgia Ports Authority for a study on the economic and environmental impacts of further deepening of Savannah Harbor.
The $1 billion Savannah Harbor expansion project, completed in March last year, was designed to accommodate container cargo ships with a capacity of up to 8,200 20-foot units. However, ships with a capacity of more than 16,000 20-foot units now call at the port of Savannah.
"[The Georgia Ports Authority] is critical to our national supply chain and as a job creator for our state," Kemp wrote in a letter to U.S. Rep. Buddy Carter, R-Savannah, copies of which were sent to the offices of all delegation members. "It is vital that we work together to ensure GPA can continue to accommodate increasingly larger container ships calling at our ports."
The Port Authority is asking Congress to approve the study under the Water Resources Development Act, which federal lawmakers will consider next year. The study would be conducted by the US Army Corps of Engineers.
Kemp asked the Republicans and five Democrats in the delegation for unanimous support.
"Leaders from both parties and across Georgia supported with a unified voice [the Savannah Harbor Expansion Project]"wrote the governor. "It's time for us to provide that level of leadership again."
Any deepening project approved by Congress will likely take years to complete. The Savannah Harbor Expansion Project took 25 years to complete the various studies required and obtain the necessary funding to deepen Savannah Harbor from 42 feet to 47 feet.