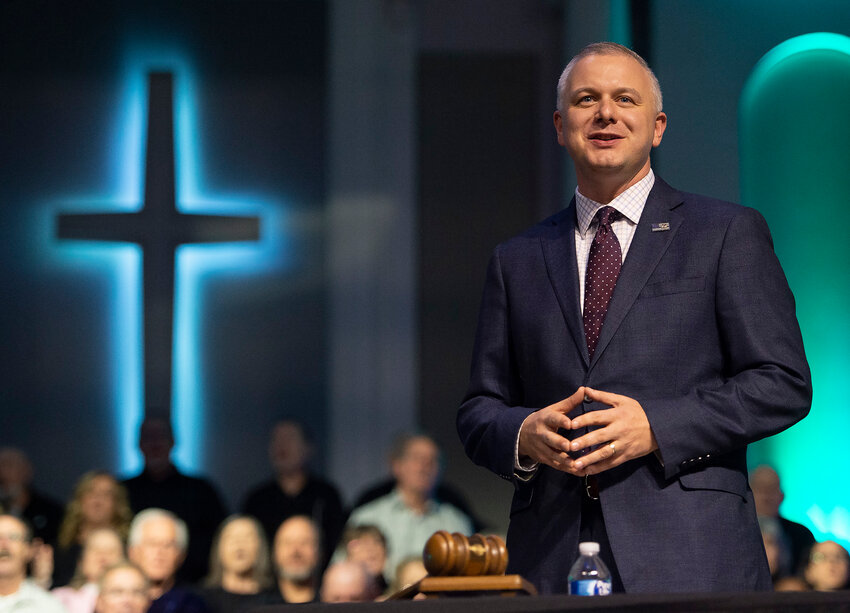 By ROGER ALFORD, The Christian Index
SNELLVILLE, Ga. — Fayetteville pastor Josh Saefkow will serve a second one-year term as president of the Georgia Baptist Convention, the state's largest religious group with about 1.4 million members.
Saefkow, whose winning personality and unwavering work ethic saw him travel across the state as a preacher and at meetings during his first term, faced no opposition and was elected by acclamation.
"I'm so grateful," he told messengers gathered at Church on Main in Snellville Tuesday afternoon. "Thank you for the joy, honor and privilege."
Saefkov said his role as president gave him "a front-line seat to see everything the Lord is doing in Georgia."
"I have loved seeing God work throughout our state and I have enjoyed being with our pastors, our association missionaries and our mission board staff," he told The Christian Index after running for a second term had decided. "It was a pleasure. I want to remain focused on the mission of continuing to bring the gospel to our communities and cities and trusting the Lord to bring a harvest."
Longtime bivocational pastor Randall Culpepper, who led Taylor Mills Baptist Church in Reynolds while serving in the U.S. Air Force, nominated Saefkow for his second term. Culpepper is also Saefkow's father-in-law and a member of his church.
"Josh is a phenomenal pastor of our Flat Creek church, a God-honoring son-in-law to Cindy and I, a faithful husband to our daughter, a fearless father to two of our beautiful granddaughters, a fearless and devoted uncle to all his nieces and nephews, a proud and happy owner of Liberty, his loving Springer Spaniel, and Little Joe, his loyal steed, and finally a warm friend to all he meets," Culpepper said in announcing that he planned to nominate his son-in-law for a second term. "He is a faithful preacher of the entire counsel of our Lord and is not afraid to graciously offer that counsel to those our Lord has entrusted to his care. I can think of no one better to lead our convention in the coming year, and may our Lord raise up a body of young men and women in our churches across Georgia who will emulate His Christ-like spirit."
Saefkow, 39, served in numerous capacities in the Georgia Baptist Convention. He is a past vice president of the Georgia Baptist Convention and past chairman of the Georgia Baptist Executive Committee. He is also a member of the Administrative Committee and the Public Affairs Committee.
Saefkow holds a bachelor's degree and two master's degrees from Liberty University and a doctorate from Gateway Seminary of the Southern Baptist Convention.
Saefkow's church donates 10 percent of all unrestricted revenue through the Cooperative Program, the primary means through which Southern Baptist congregations support missionaries and ministries in their home states, their nations and around the world.
The messengers also elected Stephen Dervan, pastor of Oak Hill Church in Williamson, as first vice president and Javier Lopez, Hispanic pastor of First Baptist Church in Douglasville, as second vice president.
Jim Perdue, pastor of Second Baptist Church in Warner Robins, nominated Dervan and said he had done a "great job" at Oak Hill, where he led the congregation to adopt the cooperative program and increased donations from less than 1% to more than 6% % to increase in the last six years "on the way to 10%".
Perdue said Oak Hill also planted four churches in New York City under Dervan's leadership. Perdue also pointed out that Dervan appeared in the "Fireproof" campaign.
Rafael Valter, pastor of Iglesia Bautista Agape in Stone Mountain, nominated Lopez, telling messengers that he has been a pastor and church planter for 25 years and has baptized 25 people in the last 12 months.
"I think he will be a great vice president, not just because he is a church planter, not just because he is a baptist, but because he has the heart of a servant," Valter said.
Valter said Lopez and his church prepared and served more than 200 meals Monday for a Hispanic preaching conference held in conjunction with the annual meeting.
The messengers voted before the election to amend the governing documents of the Georgia Baptist Convention, which reduced the number of vice presidents from four to two.