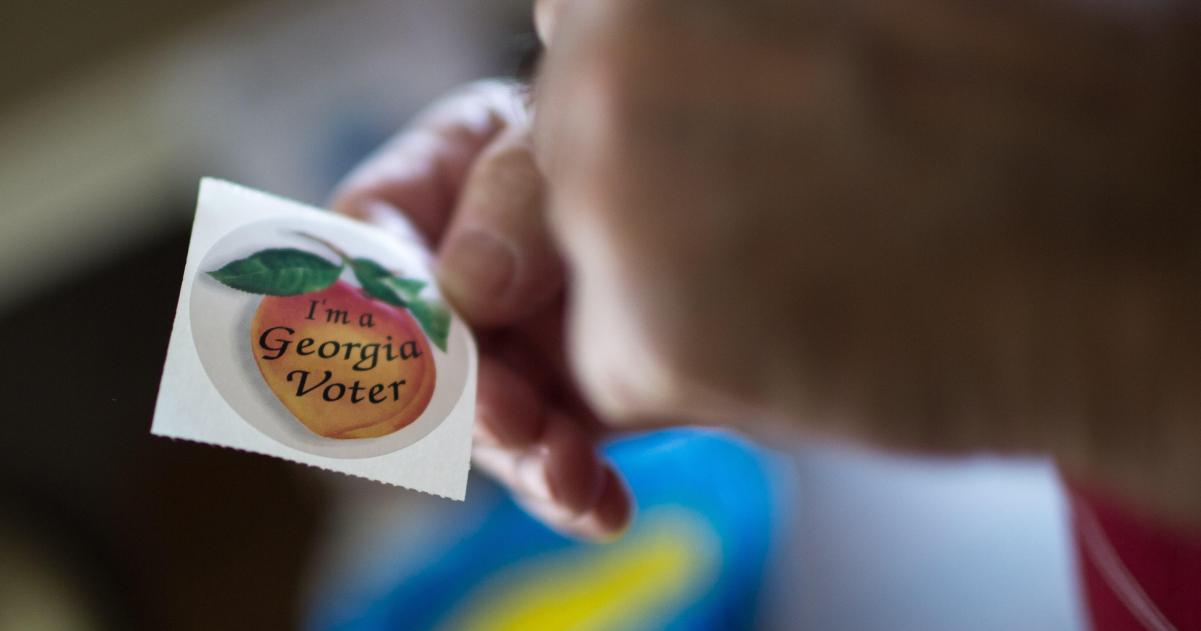 Photo courtesy of Aunna Dennis
My name is Aunna Dennis. My family's roots in the state of Georgia go back generations – my grandmother used to come to the sock hop in the same building in Atlanta where I now work as executive director of Common Cause Georgia: a nonpartisan, grassroots organization dedicated to upholding the core values ​​of American democracy.
When Georgia voters are disenfranchised, it feels personal to me. And when wealthy special interests use their millions to illegally and secretly coordinate with politicians and drown out the voices of everyday Georgians, I cannot stand idly by.
At the age of 10, I became a community organizer and became known as the "Petition Girl" in my community in Atlanta. Even at that age, I could clearly see that there was discord and discrimination in my state and decided to do something about it.
In Georgia, as in many other southern states, much of our existing infrastructure is a relic of systemic racism. Wealthy special interests have an outsized voice in our politics, a fact that has led to a widespread feeling among citizens of this state, particularly Black Georgians, that our voices have little chance of being heard. This sentiment is especially true considering there have been a number of recent events that have spurred me to action.
In early 2021, it was mentioned at a political event that a nonprofit company called True the Vote had "partnered" with the Georgia Republican Party to support the ongoing runoff elections for our two U.S. Senate seats.
This "assistance," which included challenging voter eligibility, monitoring mailboxes, and other election-related activities, was a blatant violation of federal law that prohibits companies like True the Vote – which do not disclose their funding sources, thereby preventing voters from knowing , who is behind the work they do – from providing contributions in the form of services or goods to political parties (so-called "in-kind donations").
This activity also took place in the midst of a uniquely high-stakes election, with Georgians across the political spectrum engaging at a rare pace.
After the contentious 2020 election, amid wafer-thin calls and (false) calls for a stolen election, our Senate runoffs were set to decide which party controlled the chamber for the next two years.
The more facts came to light, the more frustrated and disappointed I became. This was the type of shadowy and illegal activity that I have spent most of my life working to protect Georgia voters from.
When I saw the state Republican Party and this nonprofit organization so blatantly disregarding the law – even issuing press releases detailing their partnership and activities – it became clear to my colleagues and I that there is no machinery in place designed to keep power in the hands of a few.
It was also clear that not only did the state's GOP and True the Vote not care that they were violating the law's transparency requirements and restrictions, but they were also so open about their coordination that they clearly did not face consequences had expected.
The ease and openness with which they implemented this plan can be directly linked to the (in)action of yet another structure that allows wealthy special interests to exercise an outsized voice in our democracy: the Federal Election Commission, or FEC .
The FEC is responsible for enforcing the laws that govern our federal elections, but the commission's inaction has led to the collapse of the system.
Instead of working for the people or investigating potential violations of the law, such as the undisclosed coordinated spending between the Georgia Republican Party and True the Vote, the FEC routinely blocks and dismisses cases in which its own lawyers recommend cause to believe to find law was violated.
Common Cause Georgia filed an administrative complaint with the FEC in March 2021, joined by Campaign Legal Center Action. Our complaint alleged that True the Vote violated the Federal Election Campaign Act (FECA) and made prohibited in-kind donations in its work for the state GOP. We also alleged that the Georgia Republican Party violated FECA by accepting these in-kind donations and failing to report them.
Despite clear evidence that the law was violated and contrary to the recommendation of the FEC's Office of General Counsel, the FEC's commissioners dismissed our complaint in August 2022.
Two of the commissioners who voted to dismiss our complaint claimed that True the Vote's activities, including training, hotlines and actions that question the eligibility of hundreds of thousands of Georgia voters, were not "conducted with the purpose of to influence an election" and therefore were not covered by FECA.
Knowing the history of my community, I couldn't let it stand. Throughout our history, we have witnessed countless stories of people unable to make significant contributions to our society or unable to have meaningful access to the democratic process.
Seeing that the very institution designed to prevent corruption allowed a major political party to accept unlimited help from a nonprofit corporation in the form of valuable election-related services spurred me to take further action.
Together with Campaign Legal Center Action as our counsel, we filed a lawsuit against the FEC in October 2022 to ensure that the FEC properly enforces the law and does not allow parties to coordinate with supposedly "independent" companies on election-related expenses , without paying for these services or disclosing them in kind."
On September 29, 2023, the U.S. District Court for the District of Columbia ruled in our favor, agreeing that the FEC unlawfully dismissed our allegations against the Georgia GOP and True the Vote.
While this case is still pending, a clear message has been sent to organizations that may be considering similar actions: You can't throw sand in voters' faces and create your own playground in Georgia.