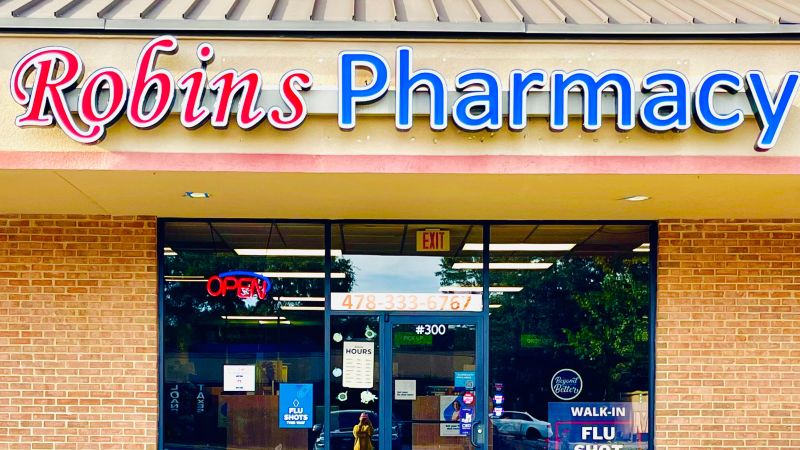 Courtesy of Ankit Patel
On Friday, Robins Pharmacy in Warner Robins, Georgia, will become the first pharmacy in the United States to sell medical cannabis.

CNN
—
On Friday Dr. Ankit Patel as a pharmaceutical pioneer. He will be the first pharmacist to legally sell medical cannabis at a pharmacy counter in the United States.
"It's great," Patel said. "It's historic."
Patel's Robins Pharmacy and two others in the same region, Omega Pharmacy and Allen Pharmacy Group, are the first to receive state licenses to sell low-THC medical cannabis. THC, or tetrahydrocannabinol, is the part of the cannabis plant that produces a "high" — one of the main reasons why doctors may recommend patients use medical cannabis to treat pain, nausea, insomnia and other problems. Products may include THC oil, tinctures, topicals, capsules, and lozenges.
Robins Pharmacy is located in Warner Robins, about a 90-minute drive from Atlanta, an area that most people wouldn't normally consider to be at the forefront of access to medical cannabis. While medical cannabis has been legal in some parts of the United States for decades, this is only the case in Georgia Pharmacies are allowed to sell medical cannabis. When that law was changed this year, it was met with enthusiasm from independent pharmacies across the state, but the change was a long time coming.
The Georgia General Assembly approved distribution of low-dose THC oil in 2019, but it took years for the state to create the regulatory infrastructure for sales. Georgia Gov. Brian Kemp last month signed Georgia Board of Pharmacy rules paving the way for THC sales in pharmacies.
"I followed Georgia law when it was passed and have been excited about this opportunity for about four years," Patel said. "When they finally said independent pharmacies could offer it, I immediately filled out the license form. I knew I had to get this."
Courtesy of Ankit Patel
"It's great to be able to offer them an alternative to your normal traditional medicines," said pharmacist Ankit Patel.
And more dispensaries will likely come online soon, the GA Access to Medical Cannabis Commission said.
To obtain state approval, pharmacies submit an application and are inspected by the state Drug and Narcotics Administration. Inspectors check the store's safety and ask employees questions to learn how much they know about the products and how they handle the products. If the business is approved, the state will issue it a sales license.
Pharmacies must keep cannabis products on the shelves with other prescription medications.
"Just like all other 'dangerous' medications," said Bill Posey, owner of Allen Pharmacy Group. "Blood pressure medications are also considered 'dangerous' medications under these circumstances. Every day we sell drugs that, in my opinion, are more dangerous than medical cannabis."
Posey's Pharmacy will begin selling the low-dose THC products on Monday.
"We've already had someone call and want to know when they can come in and make a purchase. So I know there is a need," Posey said.
Posey said he knows several doctors who have been prescribing medical cannabis for years, but patients have to travel out of state to get it.
"It's going to be great," Posey said.
He sees cannabis as a good replacement for painkillers such as opioids, or at least patients could take fewer opioids. Opioids often leave people feeling disconnected. People who use medical cannabis often say they feel more engaged and able to carry out their normal activities.
Customers with pain conditions, some stages of cancer, sickle cell anemia and Crohn's disease are eligible to purchase medical cannabis in Georgia. State law limits sales to people suffering from one of 16 medical conditions listed in the law. Patients interested in cannabis must obtain permission from their doctor to use it and apply for a card from the state. They then showed this card to the pharmacist or pharmacy employee to receive the product. The pharmacist scans the card to ensure the person is included in the state database. Pharmacies in Georgia are not allowed to sell to people outside the state. The store can sell up to 20 ounces of the product, and the state will track sales.
Brendan Smialowski/AFP/Getty Images
A flowering cannabis plant is seen at the Illicit Gardens production facility in Independence, Missouri, on March 18, 2023. – Missouri, a largely conservative Midwestern state, is the latest state to legalize recreational cannabis use. The new regulation, approved by voters in a referendum in November, has sparked an economic boom for the Show Me State, fueled by thousands of marijuana smokers from the eight states on the fringes of which the most have not legalized the drug. Across Missouri, cannabis sales totaled $103 million in February – when recreational use was legalized – compared to $37.2 million the previous month, according to the state Department of Health. (Photo by Brendan Smialowski / AFP) (Photo by BRENDAN SMIALOWSKI/AFP via Getty Images)
A groundbreaking marijuana bill is headed to the Senate
If a pharmacist sells cannabis, there will be benefits, said Dr. Jordan Day, pharmacist at Omega Pharmacy in the small town of Omega, Georgia. Your dispensary will begin selling THC products next week. Pharmacists can anticipate possible adverse drug interactions and help a patient wean off the other medications that cannabis would replace.
"We can show them the products, hopefully give them some information and figure out what they want to use them for," Day said.
Day sees medical cannabis as a possible replacement for pain, sleep and anxiety medications.
"When the pharmacist and the doctor are involved, it really is the best thing the patient can have," Day said.
Additionally, Posey said that as an independent pharmacist, they often have more time to spend with patients they have known for years. With cannabis, as with any other drug, he will ensure that patients use the medication correctly.
"We don't just give people medicine and say, 'Okay, done.' We want to make sure we always treat everyone who comes in like family," Posey said.
The pharmacists also act as a kind of ambassador for people who may not be familiar with the product or the change in the law.
Get CNN Health's weekly newsletter

"Right now we have an opioid shortage and I've talked to all of my pain medication patients about it and told them it's legal in the state of Georgia if they're interested. said Patel. "You know, it's a much more natural and less addictive option than opioids."
Patel said he doesn't expect long lines Friday when sales begin, but he looks forward to educating his patients about the possibilities of cannabis.
"It's great to be able to offer them an alternative to your normal traditional medicines," Patel said.