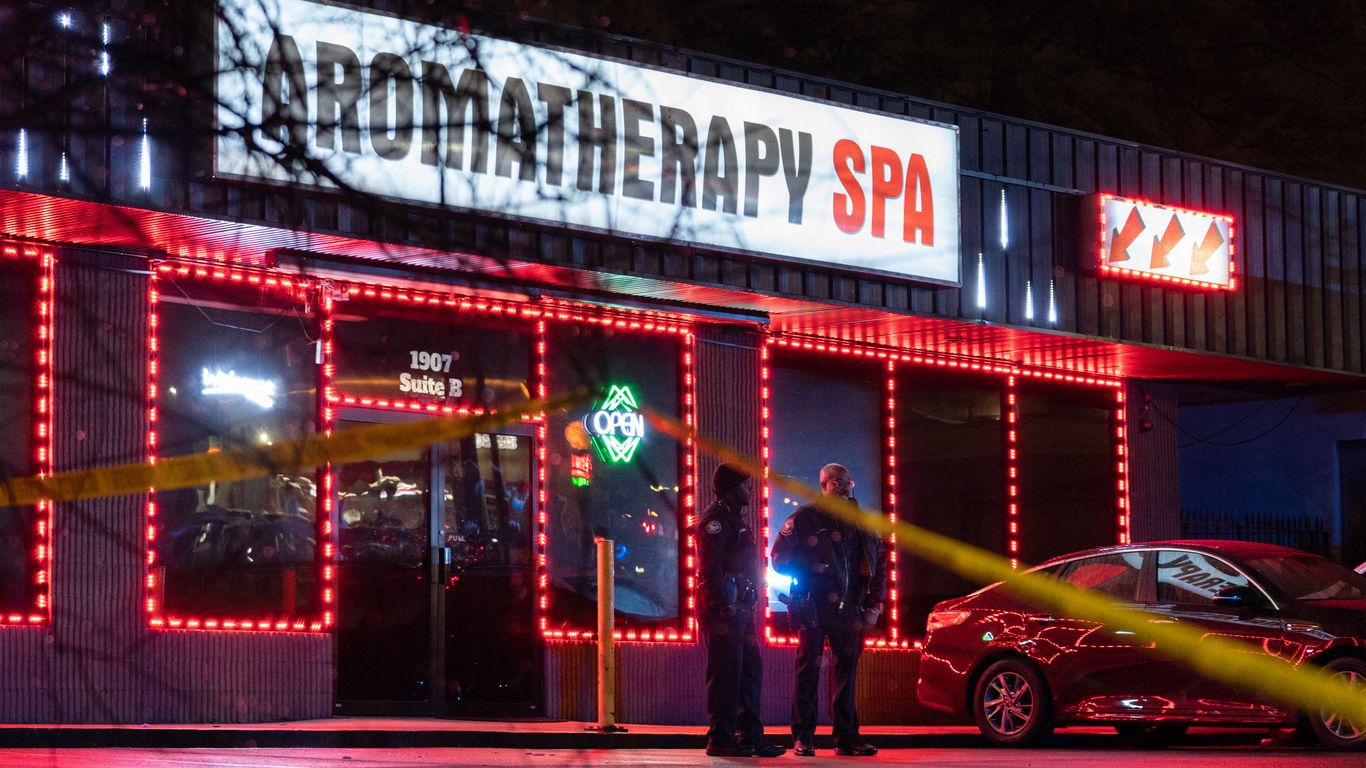 A suspect is in custody after eight people were killed and one person injured in three different shooting events at various massage parlors in metropolitan Atlanta on Tuesday night.
Remarkable: Georgia police officers said all but one of the victims were women and six were Asian. Officials in Seoul said four of the victims were of South Korean descent. There are concerns that the attacks were racially motivated, according to the New York Times.
What we know: The Cherokee County sheriff's office said Robert Aaron Long, a 21-year-old white man from Woodstock, Georgia, was arrested Tuesday night and charged with murder. The FBI is assisting the Atlanta and Cherokee Counties with the investigation.
The attacks began around 5 p.m. at Youngs Asian Massage Parlor, about 30 miles north of Atlanta, the Cherokee County Sheriff's Office said. Two people died on the scene and three were taken to hospital, where two of them died.
About 50 minutes after the initial shooting, police on reports of a robbery discovered that three women had been shot dead at Gold Spa in the Buckhead neighborhood of Atlanta.
There they received reports of shots fired at the Aromatherapy Spa across the street. When they arrived, they found the body of a woman with gunshot wounds.
The Atlanta Police Department said in a statement that video footage indicates that "it is very likely" that the same person was responsible for all three shootings.
For the recording: In the aftermath of the Atlanta shootings, police in New York and Seattle announced that they would increase law enforcement presence in Asian-American communities.
The Stop AAPI Hate reporting center said in a statement that while it was not immediately clear whether the Georgia shootings were motivated by hate, there is "a lot of fear and pain in the Asian-American community … which is haunted by high levels of race became discrimination. "
The group released a report Tuesday showing that racially motivated violence against Asian Americans has continued to rise, with women more than twice as likely to be affected as men.
What you say: Senator Raphael Warnock (D-Ga.) Tweeted, "My heart is broken tonight after the tragic violence in Atlanta that cost eight lives. Once again we see that hatred is deadly. We pray for the victims' families and for them peace for the community. "
A tweet previously embedded here was deleted or tweeted from an account that was blocked or deleted.
Editor's Note: This article has been continuously updated with new details.