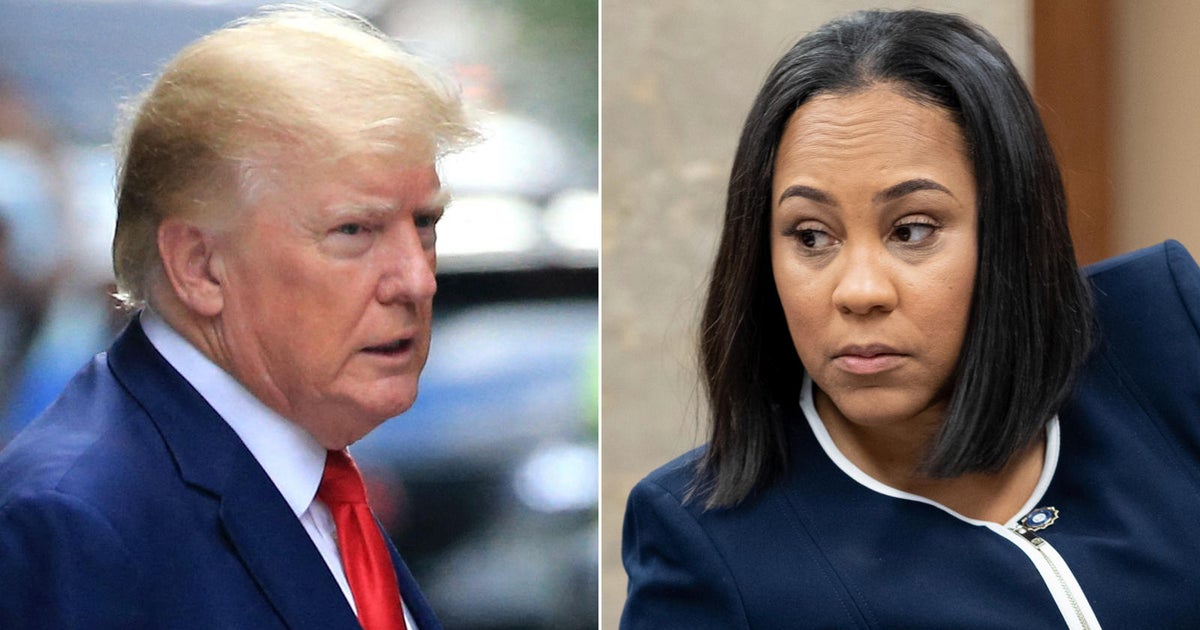 Georgia's highest court on Monday rejected a request from former President Donald Trump prevent a district attorney from prosecuting him for his actions following the 2020 election.
The Georgia Supreme Court unanimously rejected a petition filed by Trump's lawyers last week asking the court to intervene. Trump's legal team argued that Fulton County District Attorney Fani Willis and her office should be barred from filing charges and that a special grand jury report that was part of the investigation should be thrown out.
Willis has been investigating since early 2021 whether Trump and his allies broke laws as they tried to overturn his narrow election loss in Georgia to Democrat Joe Biden. She suggested she was likely to press charges in the case by a grand jury next month.
Former President Donald Trump and Fulton County District Attorney Fani Willis are seen here in a split image.
AFP/Getty Images/AP
The state Supreme Court noted in its five-page ruling Monday that Trump has a similar petition pending in Fulton County Superior Court. The justices unanimously declined to overstep the lower court's limits, writing that Trump "provides no evidence that he was denied fair access to the regular channels."
Click here to view related media.
Click to expand
Referring to Trump's attempt to block prosecutors, the justices said his brief "lacked the facts or law necessary to order Willis' disqualification by this court at this point in this record."
A spokesman for Willis declined to comment. Trump attorney Drew Findling did not immediately respond to phone and text messages seeking comment.
Trump's legal team previously acknowledged that the duplicate filings were unusual but said they were necessary given the tight timeline. Two new regular grand juries convened last week, and one of them is likely to consider the case.
Trump's lawyers filed similar motions in Fulton County Superior Court in March. They called on Supreme Court Justice Robert McBurney, who oversaw the special grand jury, to resign and leave the Trump team's claims to another judge. McBurney retained the case and has yet to rule.
In their legal filing to the state Supreme Court, Trump's lawyers argued that they were "stuck between the supervisory judge's continued passivity and the district attorney's threat of indictment" and had no choice but to ask the high court to intervene.
Willis opened her investigation shortly afterwards Trump called Georgia Secretary of State Brad Raffensperger in January 2021 and suggested that the state's top election official could help him "find" the votes he needed to overturn his election loss in the state.
The special grand jury, which did not have the power to indict, convened last May and dissolved in January after hearing from 75 witnesses Submit a report with recommendations to Willis. Although most of that report remains sealed for now, the panel's foreman said, without naming names, that the special grand jury recommended indicting several people.
More from CBS News
Read more