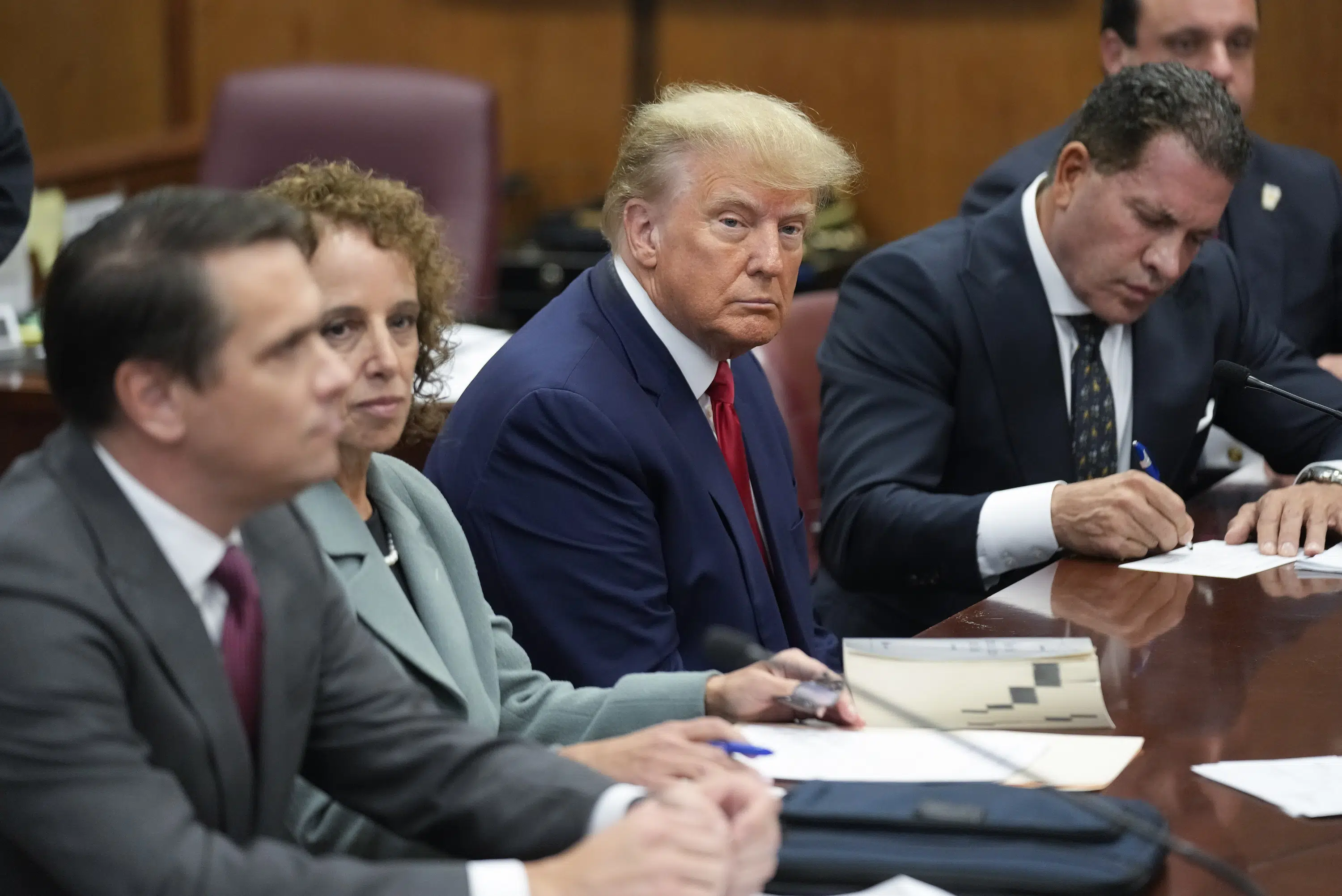 WASHINGTON (AP) – Former President Donald Trump has emerged largely unscathed politically from his impeachment in New York. But a new poll suggests investigations in Georgia and Washington could prove more problematic.
According to a new poll by The Associated Press-NORC Center for Public Affairs Research, just four in 10 US adults believe Trump acted illegally in New York, where he has been charged in connection with paying hush money to women who allegedly had sexual encounters. More — about half — believe he broke the law in Georgia, where he's being investigated for interfering with the 2020 election vote count.
The poll found that about half of his role in the Jan. 6, 2021, storming of the US Capitol and his handling of classified documents found at Mar-a-Lago have a similar opinion, both of which are under investigation by the Justice Department .
The results suggest that potential future charges against Trump in these cases may have more public appeal than his alleged cover-up of payments to pornographic actor Stormy Daniels and other women at the height of the 2016 campaign — nearly six out of 10 adults say Allegations believe they were politically motivated. While the case drew intense media coverage and made Trump the first former president in US history to be criminally charged, legal experts have long argued that the other investigations pose a far greater potential risk.
The Georgia case in particular worries even some longtime Trump supporters.
"I just feel like he sort of embarked on something that he shouldn't have done. I don't know if it's strictly illegal, but just let the votes be the votes," said Stephanie Trinidad, a Republican living in Dracut, Massachusetts, who voted for Trump in 2016 and 2020.
The poll provides further evidence that the Trump impeachment had limited political impact, which instead proved to be a massive fundraising boon. His campaign has raised more than $15 million since the indictment broke, mostly from new donors, and he has released a list of new supporters.
While the poll found that just 30% of Americans, including 55% of Republicans, say they want Trump to run for president again in 2024, those numbers have changed little since an AP-NORC poll in January . Trump's favor has also remained steady, with 34% of US adults overall and 68% of Republicans saying they have a positive opinion of him, similar to three months ago.
Still, Trump, who remains the undisputed frontrunner for the Republican nomination, would face significant headwinds if he won the Republican nomination. About half of Americans — 53% — say they will definitely not support him in the general election if he emerges as the Republican nominee, according to the poll.
As for the New York case, 41% of respondents said Trump did something illegal. 33 percent believe he did something unethical but not illegal. Only a small minority – 14% – say he did nothing wrong.
A majority of Americans — 57% — say Trump's charges were justified in this case, the poll shows, but just as many say they believe the charges were politically motivated.
They include Gino Lentine, a staunch Trump supporter from Akron, Ohio, who said he doesn't care about the case.
"If you want to lock up every man in the world — and every girl — who has cheated on his spouse and paid him off, you have to lock up the whole country," said Lentine, 57.
"In my opinion, he's innocent — well, maybe guilty, but who cares?" he said. "Who cares if they spent $100,000? Nobody cares. It costs me $100,000 to fill up my car. light up."
The poll results in New York paint a rosier picture for Trump than in Georgia, where Fulton County District Attorney Fani Willis is investigating whether Trump and his allies illegally interfered in Georgia's 2020 presidential election. The chairman of a special grand jury convened to hear evidence in the case said the panel recommended Willis indict more than a dozen people, including possibly Trump, who records say asked state election officials to cast "11,780 votes." to find" to help him win. It is now up to Willis to decide whether to press charges.
But in the Georgia case, 53% of respondents say they believe Trump broke the law, according to the poll. Twelve percent say he did something they consider unethical but not illegal, while 17% said he did nothing wrong.
Trinidad, 36, said she views the spate of investigations Trump is facing as a politically motivated distraction designed to keep him from winning the White House again. But on the Georgia case, she said, "I just feel like it's a little bit different."
"Once you start getting into our voting system and starting counting, I get a little wary because that's literally our right as American citizens. So once you start playing around with that, it becomes a little bit more of an issue for me personally," she said, adding that she hasn't given much thought to who she wants to support in 2024.
In the federal cases, about half of Americans — 47% — believe Trump acted unlawfully in handling classified documents, while 49% say he broke the law in connection with the Jan. 6 Capitol riot. About 2 in 10 say they think he did something unethical but not illegal in these cases, and almost as many say they think he didn't do anything wrong.
The poll makes it clear that Americans' views on the investigation are deeply partisan. In the Georgia case, 86% of Democrats say they believe Trump did something illegal, but only 22% of Republicans. In the New York case, 68% of Democrats and 13% of Republicans believe he broke the law.
Meanwhile, nine out of 10 Democrats say they believe the indictments in the New York case are justified, compared to just a quarter of Republicans. Nearly 9 in 10 Republicans — but only about a third of Democrats — say they believe the allegations were politically motivated.
That includes Nicole Sawyer, a registered independent from Middletown, Pennsylvania, who usually supports Democrats and praises President Joe Biden. While she believes Trump did "many immoral things" worth investigating, she also sees the investigation as politically motivated.
"I think people just throw everything they can at him," said Sawyer, 45, who sees the investigation as a distraction from more important issues like Social Security and health care. She said those issues were "kind of overshadowed by all the drama with Trump."
Still, Sawyer said if Trump is found guilty, "he doesn't deserve to be our president."
"I think kids should be able to look up to the American president without a whole lot of drama overshadowing the real things that need to be taken care of," she said.
___
Colvin reported from New York.
___
The survey of 1,230 adults was conducted April 13-17 using a sample drawn from NORC's probability-based AmeriSpeak Panel, which is believed to be representative of the US population. The sampling error rate is plus/minus 3.9 percentage points for all respondents.