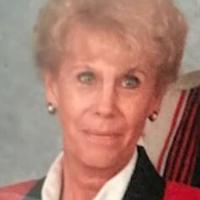 Obituary of Georgia May Johnson
Georgia May Johnson, 83 of Eldon, Missouri passed away Friday, October 27, 2023 at Miller County Nursing and Rehab in Tuscumbia, Missouri. She was born May 19, 1940 in Old Bagnell, Missouri the daughter of the late James "Jim" Pope and Ethel
(Pemberton) Westbrook. On December 1, 1956 in Lake Ozark, Missouri she was united in marriage to George R. Johnson who preceded her in death on October 31, 2007.
Survivors include,
Daughters, Tamera Miller of Brumley, MO; Brenda Spaulding of Versailles, MO
Son, Steve R. Johnson (Yvette) of Eldon, MO
Grandchildren, Jessica Shoemate (Dale), Jennifer Spaulding, Mikel Spaulding (Sarah), Tiffany Showers (Robin), Steve Johnson, Jr (Kailene), Michaela Kroeckel (John), Mathew Spaulding (Misty), Travis Johnson (Sara), Scott Johnson (Pooh Bear), Jadelyn Hoerr, Brooke Hoerr, Allison Hoerr, Sean Hoerr & Megan Hoerr
Eighteen Great Grandchildren & Six Great Great Grandchildren
Sisters, Betty Jean Vigliaturo of Kansas City, MO & Shirley Witt of Eldon, MO
Along with her parents and husband, a great grandson, two sons-in-law, John Miller & Alan Spaulding, a brother, Francis Pope, a sister, Lois Boeck, and three brothers-in-law, Joseph Vigliaturo, Otis Boeck & Doral Witt preceded her in death.
Georgia was a member of Faith Baptist Church of Eldon, MO. She loved her family and grandchildren.
Visitation will be Thursday, November 2, 2023 from 12:00 PM – 2:00 PM at Phillips Funeral Home of Eldon, MO with the Funeral Service beginning at 2:00 PM with Brother Lowin Dinwiddie officiating. Burial will follow at Greenmore Memorial Gardens in Barnett, MO.
Memorials in her name are suggested to Greenmore Memorial Gardens.
Arrangements are under the direction and care of Phillips Funeral Home of Eldon, MO.
$116,000
Family Boating Center
+1(573)365-4001
Currently Open
Family Boating Center
+1(573)365-4001
Currently Open
$179,900
+1(573)365-5382
Currently Open
$6,499
+1(573)348-6575
Currently Open
$239,900
Family Boating Center
+1(573)365-4001
Currently Open
+1(573)552-8550
Currently Open
$10,900
+1(573)374-9111
Currently Open
$27,999
+1(573)348-6575
Currently Open
+1(573)552-8550
Currently Open
+1(573)365-5382
Currently Open
$149,900
Condition: Used
Mileage: 79
Family Boating Center
+1(573)365-4001
Currently Open
$88,000
Family Boating Center
+1(573)365-4001
Currently Open
Family Boating Center
+1(573)365-4001
Currently Open
+1(573)348-6575
Currently Open
+1(573)365-5382
Currently Open
$72,000
Family Boating Center
+1(573)365-4001
Currently Open
+1(573)348-1299
Currently Open
Family Boating Center
+1(573)365-4001
Currently Open
+1(573)365-5382
Currently Open
+1(573)365-5382
Currently Open
$112,699
+1(573)348-6575
Currently Open
$462,900
Family Boating Center
+1(573)365-4001
Currently Open
$84,999
Family Boating Center
+1(573)365-4001
Currently Open
+1(573)552-8550
Currently Open
$103,000
Family Boating Center
+1(573)365-4001
Currently Open
$649
+1(573)348-6575
Currently Open
Family Boating Center
+1(573)365-4001
Currently Open
$12,999
+1(573)348-6575
Currently Open
+1(573)365-5382
Currently Open
+1(573)348-6575
Currently Open
Condition: New
Mileage: 400
Family Boating Center
+1(573)365-4001
Currently Open
$12,849
+1(573)348-6575
Currently Open
$73,000
Family Boating Center
+1(573)365-4001
Currently Open
$13,999
+1(573)348-6575
Currently Open
$55,997
Family Boating Center
+1(573)365-4001
Currently Open
$9,499
+1(573)348-6575
Currently Open
$531,842
Condition: New
Mileage: 400
Family Boating Center
+1(573)365-4001
Currently Open
$47,000
+1(573)365-5382
Currently Open
Condition: New
Mileage: 400
Family Boating Center
+1(573)365-4001
Currently Open
+1(573)348-1299
Currently Open
$116,000
Family Boating Center
+1(573)365-4001
Currently Open
$109,900
Family Boating Center
+1(573)365-4001
Currently Open
$129,997
Family Boating Center
+1(573)365-4001
Currently Open
+1(573)348-1299
Currently Open
+1(573)348-1299
Currently Open
$27,900
+1(573)552-8550
Currently Open