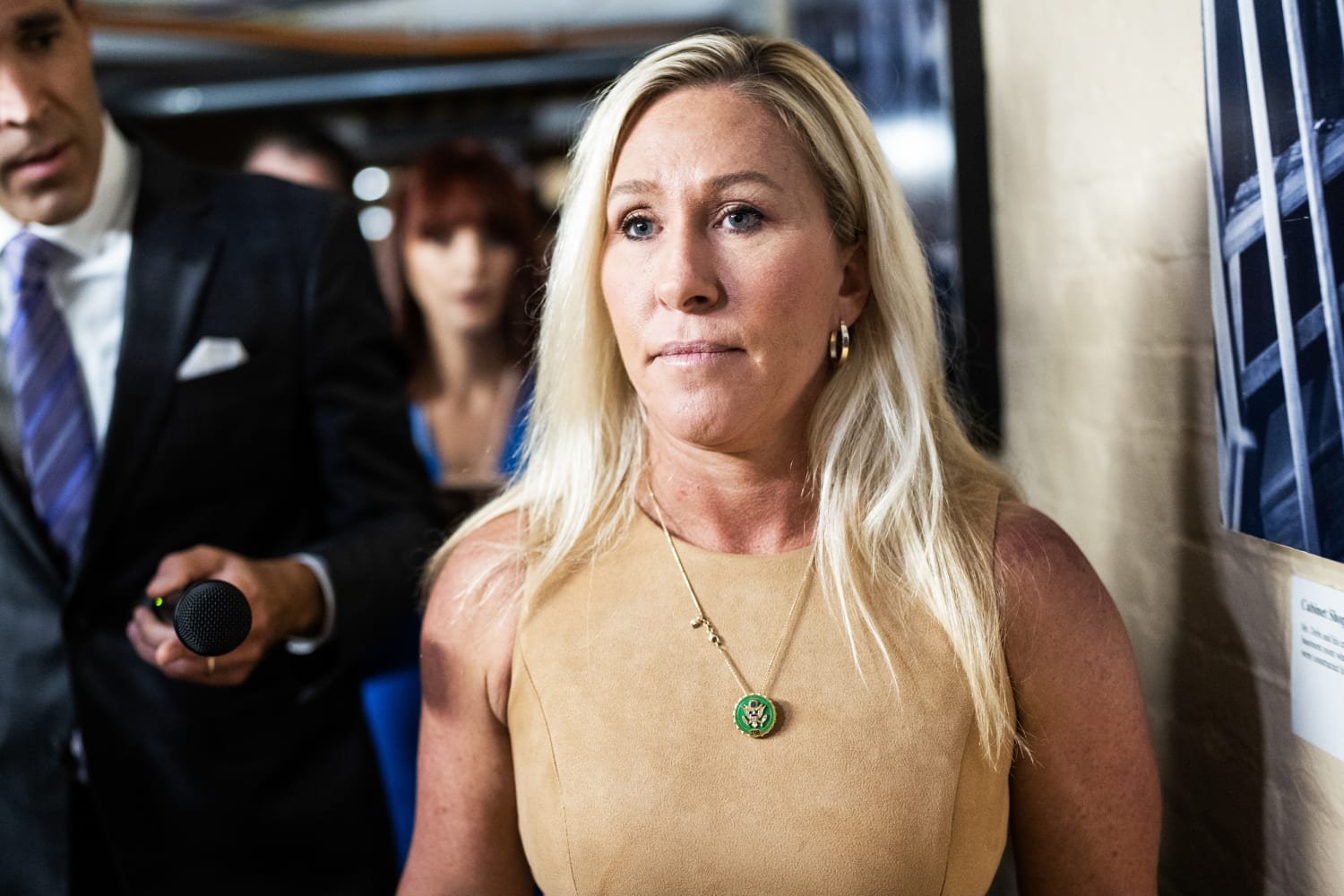 WASHINGTON – A Georgia man has been arrested for threatening to kill Rep. Marjorie Taylor Greene, the U.S. Attorney's Office for the Northern District of Georgia confirmed to NBC News on Friday.
Sean Patrick Cirillo of Macon was accused of threatening Greene, R-Ga., and her staff with his phone.
The news was first reported by CNN.
According to senior law enforcement sources, Cirillo called Greene's office twice on Wednesday and threatened to "kill her next week."
Cirillo was arrested by the FBI and remains behind bars pending his first appearance in federal court on Monday.
In a recording of a call Greene's office shared with NBC News, the caller said, "Don't you think that's what's going to happen when you lose power?" and "Don't you think you're going to get a refund?"
Greene thanked law enforcement in a statement Friday, saying they "responded quickly to this murderous threat."
"From the Rome Metropolitan Police Department, the Floyd County Sheriff's Office, the U.S. Capitol Police, the House Sergeant-at-Arms, to the FBI who made the arrest, all officers acted quickly to put this man behind bars said Greene.
Rep. Marjorie Taylor Greene, R-Ga., at the U.S. Capitol on Oct. 19. Tom Williams/Getty Images
"Threats to assassinate elected officials should never be tolerated," regardless of their political affiliation, she said. "I am not the only victim of this threat of violence. My family is being threatened. My employees are being threatened. I even had to close my district office because of the potential for violence. This is wrong and should never happen."
Recommended
Greene added: "Threats of violence must be taken seriously. And that's exactly why I take my Second Amendment rights seriously."
It was not immediately clear what prompted the alleged threats against her and members of her family.
The conservative congresswoman has been in the headlines recently for her censure resolutions against Rep. Rashida Tlaib, D-Mich., and for filing articles of impeachment against Homeland Security Secretary Alejandro Mayorkas.