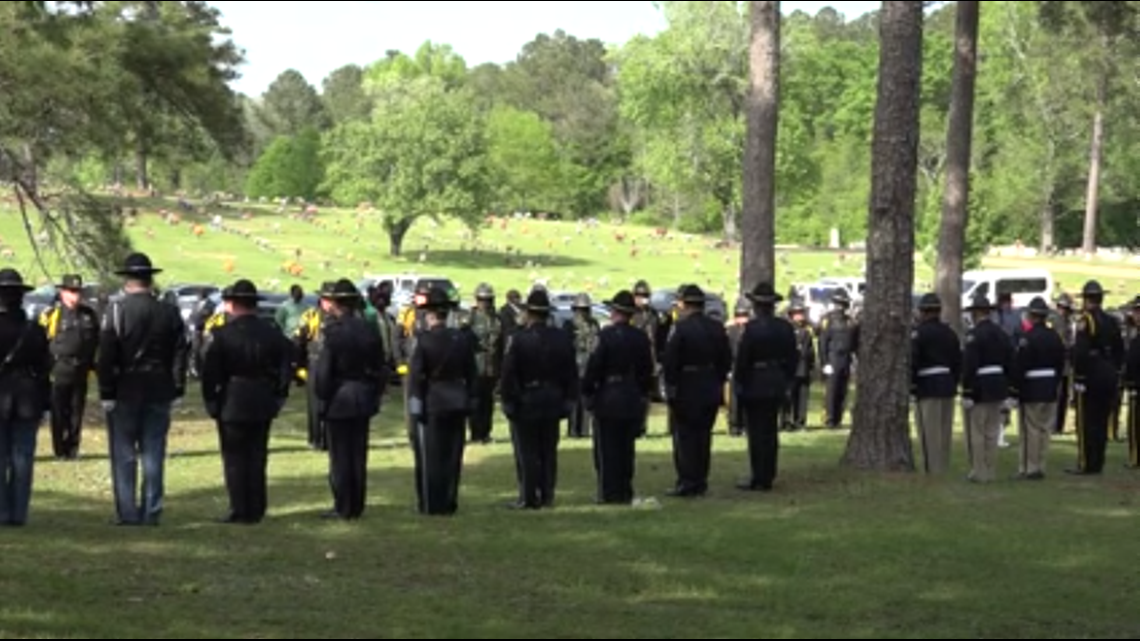 Deputy Christopher Knight was buried in Macon Memorial Park Cemetery.
MACON, Ga. – It was a private and intimate funeral and ceremony for Deputy Christopher Knight when he was interred in West Macon.
When the relatives of Deputy Christopher Knight donned the color green in his honor, his colleagues made sure that his parting was done right.
The funeral was smaller and more private, but law enforcement introduced Knight and his family at the funeral early Tuesday afternoon.
Law enforcement officials from across the state paid their respects … including those of the Georgia Bureau of Investigation, Warner Robins, and Putnam County.
"I've worked with the Bibb County sheriff's office for all of my 47 years, and when it's near home it's like one of your own," said Howard Sills, Putnam County sheriff.
Putnam County Sheriff Howard Sills says funerals like Knight's impact are due not only to the department that Knight belonged to, but also to the departments around it.
Don Banks is a member of the Bibb County Civil Service Board and says he was one of the people who first interviewed Knight before Knight stepped into the sheriff's office.
"We all stand together and work as a team. We have some good officers in this condition and we thank God for them. We hate it when fallen officers leave us," says Bank.
And while law enforcement was rife in Georgia, it was Knight's Homeland Department, the Bibb County sheriff's office, that had a duty to announce his end of service.
The ceremony lasted around 30 minutes in total.