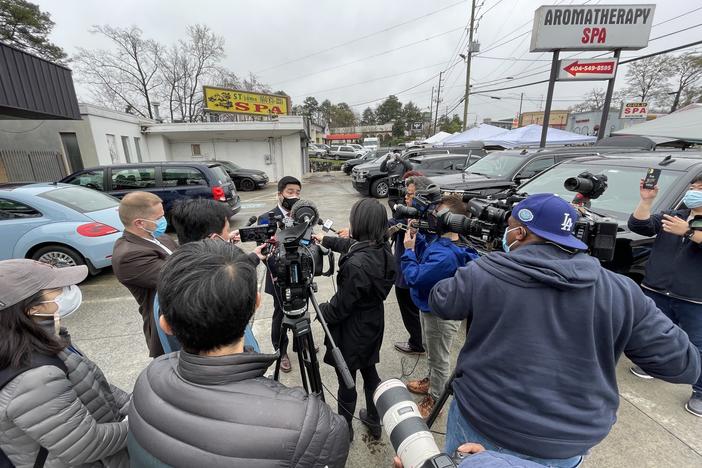 Details continue to emerge after the massacre at three Asian-owned massage businesses in and around Atlanta. A 21-year-old white man named Robert Aaron Long is accused of killing eight people, six of them women of Asian descent. Another person who was shot survived. For the latest on the investigation, community reaction and what's known about the victims, we're joined by Atlanta-based CNN correspondent Natasha Chen, who says the Georgia shootings could mark the beginning of a new chapter for Asian-American social justice activism in the United States.   
RELATED: The Long History Of Sexual And Physical Violence Asian Women Face In The U.S.
TRANSCRIPT:
Steve Fennessy: This is Georgia Today. I'm Steve Fennessy. Details continue to emerge after last week's massacre at three Asian-owned massage businesses in and around Atlanta. A 21-year-old white man named Robert Aaron Long is accused of killing eight people, six of them women of Asian descent. Another person who was shot survived. Last Friday, before a weekend of protest rallies and vigils across the country, President Joe Biden and Vice President Kamala Harris came to Atlanta to meet with Asian American community leaders.
Joe Biden: Eight people killed, seven women. Six were of Asian descent. All fellow Americans, each one of them we mourn. Their families are left with broken hearts and unanswered questions.
Steve Fennessy: For the latest on the investigation and more about the victims, we're joined for this episode of Georgia Today by CNN Atlanta-based Correspondent Natasha Chen.
Take us back to March 16, the day of the shootings, and briefly walk us through what police are saying that Robert Aaron Long did that day.
Natasha Chen: So from what we know from investigators, this person first showed up at Young's Asian Massage in Acworth, Ga., in Cherokee County. Police received a 911 call. From there, they found people had been injured. Ultimately, four people were killed from that location. And that was around 5 p.m. Tuesday.
News Tape: The other two shootings took place in Atlanta at spas right across the street from each other.
Natasha Chen: About 45 minutes to an hour later, Atlanta police got a call from Gold Spa.
News Tape: While police responded to that shooting they learned of another across the street at Aromatherapy Spa.
Natasha Chen: So, we're talking about a total of eight people who were killed, six of them Asian women, one white woman, one white man. There was also another man injured from the first location and he is expected to be OK.
News Tape: We just heard numerous gunshots coming from across the street.
Natasha Chen: And the suspect, his family members, his parents actually are the ones who called police to identify him. And that's how police are able to track his cellphone and they ultimately stop him as he's headed south. And investigators believe that he was actually on his way to Florida to possibly commit similar attacks.
Law enforcement: Georgia State Patrol troopers performed a PIT [precision immobilization technique] maneuver, which caused the vehicle to spin out of control. Subject was taken into custody without incident.
Natasha Chen: And so all of this was stopped before he could do that.
The names of the people who were killed in Cherokee County: Delaina Ashley Yaun, Paul Andre Michels, Daoyou Feng and Xiaojie Tan.
News Tape: Tan owned Young's Asian Massage in Acworth.
"She's an independent, hardworking businesswoman, very smart, very intelligent. She was a loving, kind, generous, unselfish person who loved her family and loved her close friends."
Natasha Chen: The women killed in Atlanta: Soon Chung Park. Hyun Jung Grant. Suncha Kim and Yong Ae Yue. Beyond these eight families, there are a number of other people who are really going to struggle with this for quite some time. And one thing that I have to mention: Tan's daughter Jamie told me if she could say something to her mom right now, it would be "I love you" and to give her a huge hug. And, you know, we interview, unfortunately, a lot of people in grief and we hear that a lot. But when I heard that from Jamie, I sensed something else. I said, "You didn't do that a lot with her, did you?" As in physically hugging or saying, "I love you," and she says, "No, we didn't, we were too shy." And I completely understood; that hit me so personally because in many it is not uncommon in traditional Asian families for love to be expressed through extraordinary acts of service and less so by verbally saying the words. And so I felt that pain of hers, of feeling like she missed this opportunity to say the words "I love you" to her mother. That hit me really hard.
Steve Fennessy: One of the things that also struck me in your story about Tan: that she was known as Emily. And it strikes me that there are so many Asian Americans that find themselves having the need to Anglicize their names in some way, to make them palatable, pronounceable for — for the rest of us.
Natasha Chen: I'm very lucky that I have not had to do that. Natasha is my given legal name. But, when I hear that from someone like Tan, who went by Emily for her customers, that hurts me a little because that's asking someone to be someone they're not. I also recently heard a story from a former coworker of mine who posted on social media that when she accepted her job as a local news anchor, that she was asked to change her last name for the air to make it easier for viewers to pronounce. And it really, really hurts to hear that that was a condition of her employment: to change her identity, essentially. To not be the person she was. And that is very disturbing to me.
Steve Fennessy: Natasha, when you first heard about the shooting and that six of the victims were Asian women, what was your reaction?
Natasha Chen: Tuesday is actually a normal day off for me — I work weekends — and so I'm seeing this on my day off. And I'm not even in the state of Georgia at that point. And I'm just thinking, "That's … odd." Your mind starts going toward "Mass shooting. What is going on here? Is it the same person? Why are the people killed seemingly Asian for the most part?" And of course, not only am I thinking "mass shooting," I'm thinking about all of the recent headlines that we've seen with Asian people, particularly elderly Asian people, attacked.
News Tape: The terror 83-year-old Gordon Pang is experiencing stems from what happened to him on Valentine's Day, after he noticed a man staring at him while he walked to a Tenderloin senior center for his daily lunch.
Gordon Pang: I knew I was in trouble because he stared at me with that look. He came across very quickly and pushed me, and so I fell backwards.
News Tape: Gordon, debilitated on the ground, broke his hip in three places.
Gordon Pang: Street people helped me. They were so kind, you know.
News Tape: And he spent nearly a month in the hospital and in rehab. He is still in immense pain.
Gordon Pang: Horrible experience. I don't wish this to happen to anybody.
Natasha Chen: This has been ongoing and it's been increasing, especially in the past year during the pandemic. And so your mind naturally goes there, to wonder how this might be connected, if at all.
Steve Fennessy: Tell us a little bit about your own background, you're a child of immigrants, right?
Natasha Chen: Yes, I was born and raised in the San Francisco Bay area and my parents came to the United States in the '70s. My mom came for college. My dad came for grad school. So they've been in the U.S. and are U.S. citizens. They've been here for a very long time, but they are from Taiwan and they themselves were the children of immigrants because their parents, my grandparents, had fled mainland China for Taiwan.
Steve Fennessy: And as an on-air reporter, especially over the last year, you know, as we've been told by former President Trump, referring to the coronavirus as the "China virus" or "kung flu."
Donald Trump: COVID-19 or as I call it, the "China virus"
Donald Trump: "the China virus"
Donald Trump: "the China virus"
Donald Trump: "the China virus."
Donald Trump: I call it "the China virus."
Donald Trump: I call it "the China Plague."
Donald Trump: "Kung flu."
Steve Fennessy: What palpable things have you felt or heard in the course of your own reporting?
Natasha Chen: Yeah, so last year when I was reporting on the first really major holiday after the pandemic and lockdown began was Memorial Day. And so we were covering different beaches and seeing how people were taking precautions or not taking precautions. And someone in Myrtle Beach, S.C., really didn't like our coverage. And as I was interviewing a couple of visitors, this person started filming us and was starting to yell at us and he yelled things like, "Get out of my effing country," and that, you know, blamed me for the virus, for — for bringing it here. To be clear, I was the only person in our crew who was of Asian descent. It was very clear he was talking to me. That example is just a minor example compared to so much of what I've heard across the country, in the Asian American community throughout the past year. And I think that a lot of it is ignorance. And so I have to constantly keep explaining to people that I was born and raised here. This is my country. I have nowhere else to go. Where do you want me to go? California? So — so that's kind of the increased tension and atmosphere that we felt in the past year.
Steve Fennessy: If you think about the way the United States has treated immigrants from Asian countries since the Chinese Exclusion Act, the federal law that excluded specifically an ethnic group from entering the country.
News Tape: It was the first in a long line of acts targeting the Chinese for exclusion, and it would remain in force for more than 60 years.
Natasha Chen: And I think we've learned that not just in the Asian American history, but in many histories of different people of color in this country where we're missing that education. I think that's in no small part why you're seeing the reaction and the ignorance that you're seeing. People don't know. People don't know what we have experienced, especially in communities where the Asian American population is rather small in comparison.
Steve Fennessy: Going back to the shooting itself, you were out of town, you came back to cover it. Where did you go first as — as a reporter for CNN?
Natasha Chen: So I landed at the next morning bright and early, immediately went to the Atlanta Police Department for that joint press conference that has now become rather infamous for certain comments made by the Cherokee County Sheriff's spokesperson. And then I moved on to the Aromatherapy Spa, where I continued live shots and writing pieces for TV that evening.
Steve Fennessy: And what did you see there? What was — what was the feeling you got from from being on that scene?
Natasha Chen: I'm still on the scene right now, speaking to you. The feeling is the same and it's growing.
News Tape: The shootings that took the lives of eight people, including six Asian-American women, have captured the attention of the nation. Politicians like both of Georgia's U.S. senators, Rev. Raphael Warnock and Jon Ossoff also spoke at Saturday's rally in support. They also called for stronger gun control and hate crime laws.
Jon Ossoff: Let us build a state and a nation where you can register to vote the same day as an election, but you cannot buy a weapon, the same bill you intend to kill.
Raphael Warnock: I'm sick and tired of hearing about what happened with this sick and misguided person. I'm not interested in whether or not he had a bad day. Talk about a bad day?
News Tape: Others, like state lawmakers, advocates and faith leaders, joined the hundreds of people calling for change and also honoring the victims.
News Tape: "I'm Asian American. I love this country. And I came here for opportunity and a better life."
News Tape: "It's not a far-left agenda. It's not a far-right agenda. I'm just trying to make sure that the Asian voice is heard."
Natasha Chen: These memorials have really grown. Not only is it flowers, it has become far more signs.
News Tape:: Just that small memorial that started with a few flowers has now really grown significantly. You can see dozens of flowers, posters out here, candles to honor those victims.
Natasha Chen: And now it is full of signs: signs that say, "Hate is a virus;" signs that say, "Stop racist violence." There's a guy holding that very sign across the street right now. In fact, I see a couple of Black women at Gold Spa as we're talking, holding signs in solidarity. And there are other signs that describe the victims and how one person loved karaoke and made a really great kimchi. All sorts of really emotional expressions from people in the community.
News Tape: Allison Calhoun used to work across the road from the massage business. She is a member of Cherokee County Moms Demand Action, a nonpartisan advocacy group that wants stricter gun laws.
Allison Calhoun: I hope that we can take a moment to reevaluate where we stand on our current gun reform legislation and see what we can do to decrease gun violence, not just in our own community, but across the United States."
Natasha Chen: And seeing that outpouring of solidarity from other communities is very refreshing to me, because I know we've been talking about anti-Asian incidents all year. But until this moment, I had not personally witnessed — I wasn't sure how non-Asian communities would react to this. I really didn't know. And it feels reassuring that they're here. And I think that the message is it has been happening for a really long time.
[BREAK]
Steve Fennessy: This is Georgia Today. I'm Steve Fennessy. We're talking about last week's deadly shootings at three metro area massage businesses. Most of the victims in the attacks were women of Asian descent. The businesses were also Asian-owned. And while the investigation is still in its early stages, police have said they're looking into whether the mass shooting could be classified under the state's recently passed hate crimes law.
Law enforcement: And so we are looking at everything to make sure that we discover and determine what the motive of our homicides were. Our investigation is looking at everything, so nothing is off the table for our investigation.
Steve Fennessy: For more, I'm joined by CNN Atlanta-based Correspondent Natasha Chen. Natasha, what's the latest on this investigation?
Natasha Chen: Yeah, so he's charged in both Cherokee County and Fulton County for the various murders, but he's being held in Cherokee County. So he's currently in the adult detention center in Canton, Ga. Investigators have not identified a race-based motive here.
News Tape: The gunman is facing eight counts of murder, but so far, no hate crime charges have been filed. Georgia recently passed a new hate crime law following the killings of Ahmaud Aubery and Rayshard Brooks. A hate crime conviction would add two years to sentencing for each felony.
Natasha Chen: You're looking at a person who allegedly targeted these places because he considered them a temptation, considered them a problem in the context of his own sex addiction — in particular, these Asian women. Those are the facts of what he did: He targeted them and killed people.
News Tape: "To target three Asian businesses and to kill six women who look like me — could be me, could be my mom, could be my sister, could be my aunt — and then to not call it a hate crime is dehumanizing." "But to say that it is unclear what the motivations were is. It's, it's silencing. It's taking away our story."
Steve Fennessy: What is the significance, if any, if this particular mass shooting with targeting Asian-Americans as it potentially being the first test of Georgia's hate crime law?
Natasha Chen: This would be new territory. The fact that the law includes the targeting of people based on sex means that you have to look at this possibility as someone who targeted women in general, not just specifically Asian women, but women. And I think that opens the door much wider, as far as how he viewed women, perhaps viewed the role of women in his own issues and his own problems.
Steve Fennessy: What are you hearing about how community members feel about the investigation and how police have handled the case so far?
News Tape: Channel 2 investigative reporter Nicole Carr is on this one. She broke details this afternoon. She's live now from the Cherokee County Sheriff's Office. Nicole.
Nicole Carr: You know, I was just talking with Sheriff Frank Reynolds. He is largely defending longtime captain and spokesman Jay Baker. But at the same time, this controversy caused them to consult the DA's office today to see if the GBI needed to take over their portion of the investigation because of all of this. This won't happen because the FBI is involved, but now they're trying to figure out what to do with Capt. Baker's job.
News Tape: Capt. Jay Baker came under more scrutiny and calls for removal after his now deleted personal Facebook page feature these March and April postings telling folks to place their order for the "COVID-19 imported virus from China" T-shirts, saying he loved his T-shirt that many called out for being racist. The sheriff's office didn't immediately address the Facebook post Thursday, instead releasing a statement saying Baker's press conference words were not intended to disrespect any of the victims, the gravity of the tragedy or express empathy or sympathy for the suspect, ending with their regret for any heartache Baker's words may have caused.
Steve Fennessy: What kind of signal does that send?
Natasha Chen: I talked to a couple of people who came up to the Youngs Asian Massage location in Cherokee County. They were so disappointed and they said to me, you know, if this suspect had looked like them, he would have been called a terrorist. Nobody would be telling us that he had a bad day.
News Tape: Hundreds of people turned out for a vigil in the wake of Tuesday's shooting at three Atlanta spas that killed eight people. Six of the victims were Asian women. Jo-Ann Yoo, executive director of the Asian American Federation, organized the vigil.
Jo-Ann Yoo: We're here because we all know that our community deserves better. Our workers deserve better. Our mothers, sisters, aunts and daughters deserve better. We are here standing together because we are sad, we are angry, and we are exhausted by the roller-coaster ride of emotions that we've all been dealing with today.
Natasha Chen: You know, something very striking was this Korean church service that happened across the street from where I'm sitting at Gold Spa. And the Korean pastor told me, "This is an awakening moment." He said, "My congregation is angry and fearful and perhaps traditionally in the past, they have focused on their own survival. But now this is an awakening to get involved in social justice issues and stand with other communities of color." And I thought, wow, that's quite a reckoning within the Asian community itself, especially in the immigrant community, where I can completely imagine that their goal was to just quietly do good work and try not to be noticed. And now it's like, now this has happened. So, what are you going to do about it?
Joe Biden: I'm going to speak about something else. I said from the beginning of my campaign for president that we needed to come together, that we needed to unite as one people, one nation, one America, I said …
Steve Fennessy: But, of course, the president, vice president of the United States came here to meet with local Asian American officials.
Joe Biden: Whatever the motivation, we know this. Too many Asian Americans have been walking up and down the streets and worried, waking up each morning the past year, feeling their safety and the safety of their loved ones are at stake. They've been attacked, blame, scapegoated and harassed. They've been verbally assaulted and physically assaulted, killed. Documented incidents against of hate against Asian-Americans have seen a skyrocketing spike over the last year, let alone the ones that happened and never get reported.
Natasha Chen: Let's put it this way. In my lifetime, I have never seen anyone as important as the president of the United States paying special attention to the plight of the Asian American community and to meet with leaders like this. It was — it was quite a moment for us to see. And not only that, to have a vice president who is part Asian? I almost couldn't wrap my mind around the fact that that was happening.
News Tape: I think it's a cathartic moment because the first step is to be seen and to be heard.
Natasha Chen: In talking to other members of the Asian-American community, this idea that, this myth that we're the model minority, that this has done us, I believe, some harm in the end because the perception is a bit skewed.
Steve Fennessy: Here's State Rep. Bee Nguyen. When the Democrat took office after a special election in 2017 to fill the seat vacated by Stacey Abrams, who resigned to run for governor. Nguyen is the first Vietnamese American to hold office and the Georgia state legislature.
Bee Nguyen: There's a long history of Asian American violence in this country and it's been erased and it is not told, I think, very intentionally, to make us keep our heads down to pit communities of color against each other, to make us adhere to this model minority myth. And as an Asian American child growing up, my parents always wanted me to keep my head down, to remain silent, to not get any attention from anywhere, because they were always afraid, ultimately, that we would be a target. And that sense of safety and that sense of invisibility has harmed our community.
Steve Fennessy: My thanks to Natasha Chen, an Atlanta-based correspondent for CNN. Atlanta Mayor Keisha Lance Bottoms has added her voice to the chorus of calls demanding that the spa killings be charged under Georgia's hate crime law.
Keisha Lance Bottoms: The acknowledgment that this was a crime built upon hatred for a particular community matters. And I think that it's important that prosecutors and police consider that in making those charges.
Steve Fennessy: For more, go to GPB.org. I'm Steve Fennessy. This is Georgia Today, a production of Georgia Public Broadcasting. You can subscribe to our show anywhere you get podcasts. Please leave us a rating and review on Apple. Jess Mador is our producer. Our engineer is Jesse Niswanger. Thanks for listening. We'll see you next week.