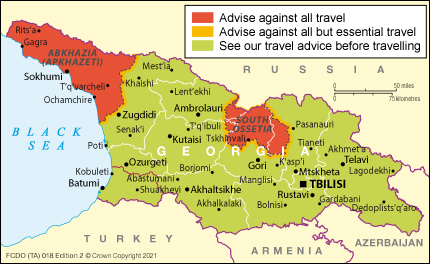 On this page you will find information about traveling to Georgia.
This page reflects the UK Government's understanding of the current rules for people traveling on a full 'UK Citizen' passport, across the most common modes of travel.
Authorities in Georgia set and enforce entry requirements. If you are unsure about Georgia's entry requirements, contact the British embassy or consulate.
All travelers
The Department of Foreign Affairs website is regularly updated with details of the latest entry requirements. As of June 15, 2022, foreign citizens do not need to present proof of vaccination or a negative test result to enter Georgia.
Before traveling, check your passport and travel documents
Validity of the passport
If you are visiting Georgia, your passport should be valid for the planned duration of your stay. Georgian law does not require a validity period beyond this. However, you should consider the requirements of each country you are traveling to.
If you are in Georgia and your passport has expired, you should apply for a new British passport with full validity. Please use these instructions to fill out the application form and submit it to the Visa Application Center in Tbilisi. If your passport has expired and you need to travel urgently, you may be eligible for an emergency travel document. For more information, please follow the passport instructions linked above.
Check with your travel provider to ensure your passport and other travel documents meet the requirements.
Visas
British citizens do not need a visa to enter Georgia for stays of up to one year. If you want to stay longer or travel to Georgia to work or study, you must apply for a long-stay visa. Further details on entry requirements can be found at the Georgian Embassy in London or on the Georgian Foreign Ministry website.
In exceptional cases, the border police may refuse entry to Georgia to a visitor or long-term visa holder if they consider that the traveler meets one of the exclusion criteria set out in Georgian law.
If you are in Georgia for more than 183 days and have paid employment, you are automatically subject to income tax and must notify the Revenue Service of your employment, regardless of whether you have a visitor's permit or are an official resident. Failure to comply will result in a fine.
Travel insurance
All visitors to Georgia are required to have appropriate travel/medical insurance for their stay. You may be asked to provide proof by your airline upon check-in or by immigration authorities when you arrive in Georgia. If you cannot provide proof of valid travel insurance, difficulties may arise.
Make sure you have adequate travel health insurance and available funds to cover the costs of medical treatment abroad and repatriation.
Traveling with medication
Georgia has a very strict anti-drug policy, which may also cover prescription and non-prescription medicines or medicines that are otherwise commonly available in the United Kingdom and the European Union. For example, non-prescription medications containing codeine are illegal in Georgia. This can cause serious problems for travelers and in some cases lead to administrative and criminal proceedings. For further information on the legal status of a specific medicine, please contact the nearest Georgian embassy.
If you want to travel with prescription medication, you must carry a doctor's prescription and ideally the original packaging with you. See health.