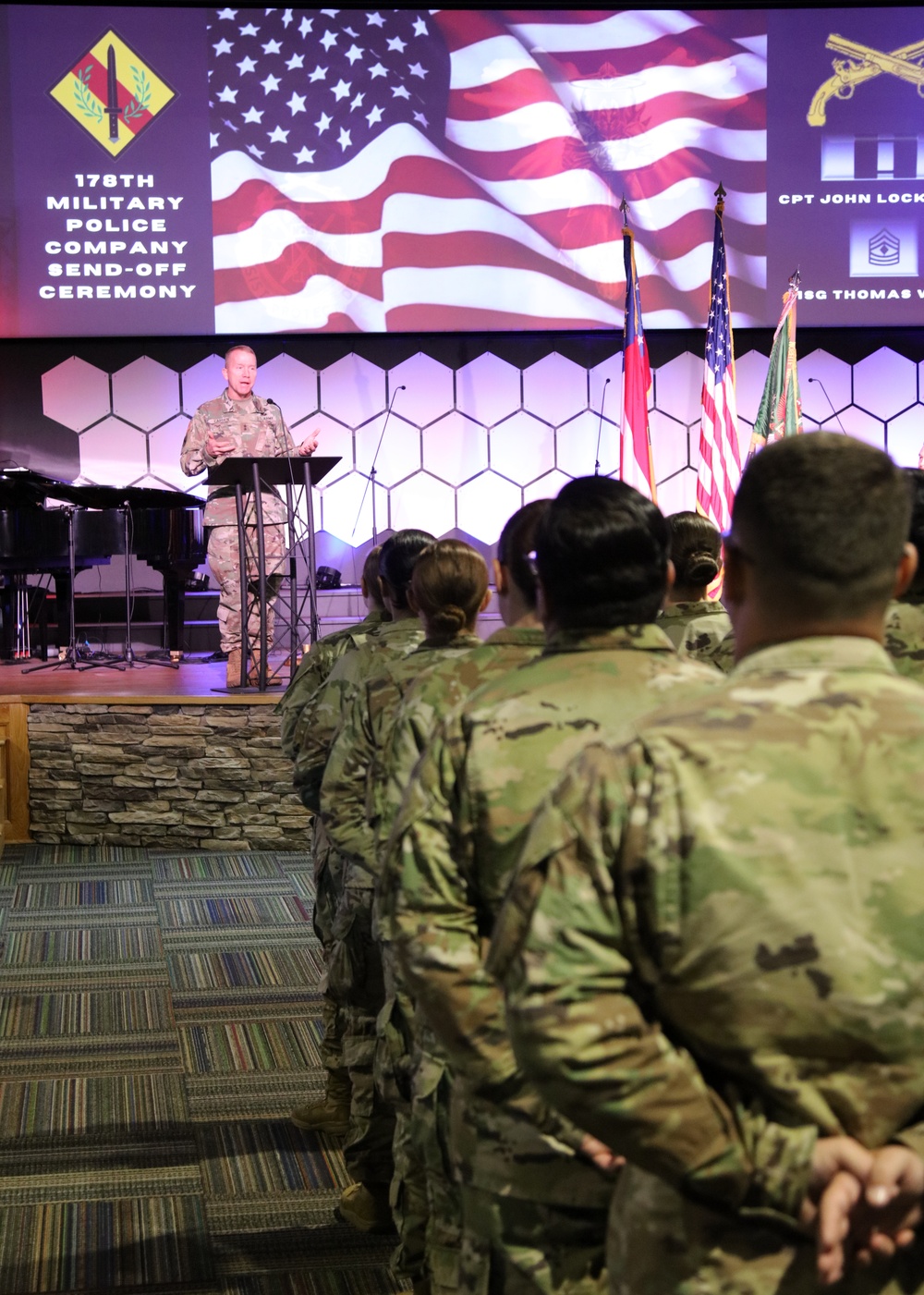 The Georgia National Guard's 178th Military Police Company held a farewell ceremony in their hometown of Monroe, Georgia, Oct. 20, 2023, to announce their upcoming overseas deployment. The unit was already deployed in Iraq in 2003 and 2009 in support of foreign missions.
The 178th MP Company is the latest in a long, unbroken chain of Georgia National Guard units that have supported overseas operations since September 11, 2001. More than 23,000 citizen-soldiers and airmen are deployed in support of operations across all geographic combat commands.
The 178th MP Company has a long history and tradition of foreign service. The earliest Georgia National Guard unit from Monroe was the Walton Guards, formed in 1874. The unit was mobilized on the Mexican border in 1917 and deployed to France in 1918. During World War II, the unit was then part of the 950th Anti-Aircraft Artillery. The battalion was stationed in the Pacific Theater, where it provided air defense during the Guadalcanal and New Guinea campaigns.
Soldiers from the 178th MP Company reinforced the 190th MP Company in September 1990 and deployed as part of Operation Desert Shield. The MPs were among the first Georgian guardsmen deployed abroad, where they were stationed in Saudi Arabia.
On February 11, 2002, the 178th MP Company was ordered to active federal duty in support of Operation Noble Eagle. The unit provided MP support to Guantanamo Bay Naval Base and increased security at facilities in Georgia. The 178th was discharged from active duty on December 17, 2002, but was again ordered to active federal duty in 2003 for a 12-month deployment to Iraq. The unit returned to Iraq in 2008 and supported combat operations in support of Operation Iraqi Freedom.
In addition to its extensive overseas experience, the 178th MP Company has played an important role in numerous government operations responding to hurricanes, winter storms and floods. In March 2020, Monroe deputies were among the first Georgia Guardsmen called to active duty to support Georgia's response to the COVID-19 pandemic. From May 2020 to 2021, the 178th MP Company supported law enforcement officers and increased security at key locations in response to citizen demonstrations, the contentious 2020 election and the subsequent presidential inauguration.
Towards the end of the farewell ceremony, Capt. John Lockstedt, commander of the 178th MP Company, spoke to the soldier's family members who had gathered to celebrate the departure of their loved ones.
"I don't have to tell you how loved and appreciated you are. "The truth is, we couldn't do this without you.
| | |
| --- | --- |
| Date taken: | October 20, 2023 |
| Release Date: | Oct 21, 2023 9:03 p.m |
| Story ID: | 456275 |
| Location: | MARIETTA, GA, USA |
| Hometown: | DECATUR, GA, USA |
| Hometown: | MARIETTA, GA, USA |
| Hometown: | MONROE, GA, USA |
| | |
| --- | --- |
| Web views: | 122 |
| Downloads: | 0 |
PUBLIC DOMAIN
This work, Georgia National Guard citizen soldiers prepare to deploy overseasfrom MAJ William Carrawayidentified by DVIDSmust comply with the restrictions set forth at https://www.dvidshub.net/about/copyright.