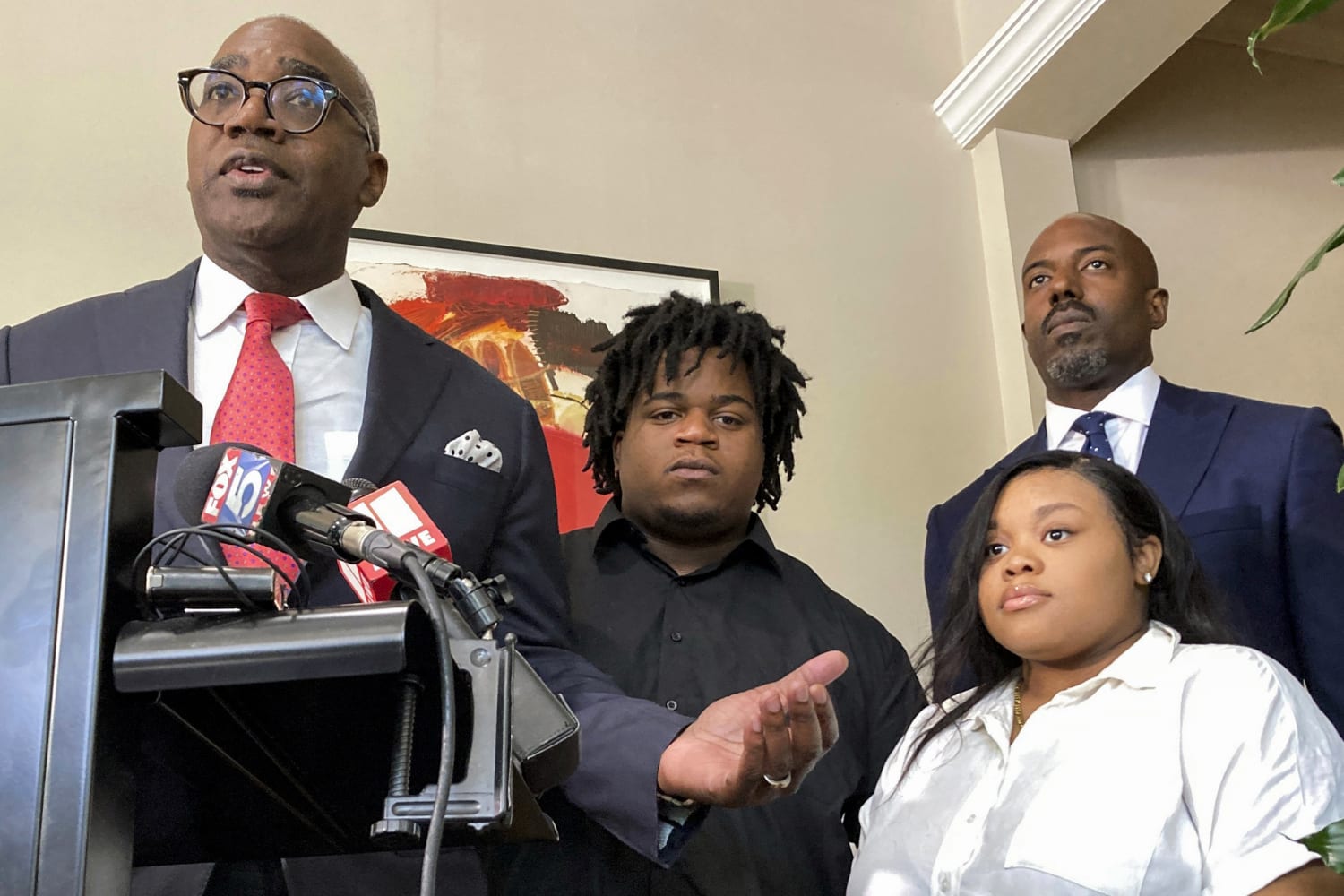 A Georgia couple filed a lawsuit last week claiming their child was beheaded by a doctor who used excessive force during delivery.
Jessica Ross and Treveon Isaiah Taylor Sr. are suing both Southern Regional Medical Center in Riverdale and its obstetrician, Dr. Tracey St. Julian, who is not employed by the hospital after allegedly using 'ridiculous excessive force' during delivery, says her lawyer Roderick Edmond The baby is suffering from shoulder dystocia. The infant did not survive.
According to the lawsuit, Ross's water broke around 10 a.m. on July 9 and she arrived at the hospital 10 minutes later. By 8:40 p.m., Ross was fully dilated and was instructed to push. However, the baby did not descend properly, the lawsuit says, most likely due to shoulder dystocia, which occurs when a baby's shoulder becomes stuck behind the mother's pubic bone.
Premiere Women's OB/GYN, the practice in St. Julian's, did not immediately respond to requests for comment. Southern Regional Medical Center said in a statement that it denies "the allegations of wrongdoing" and that "this unfortunate infant death occurred in the womb prior to delivery and decapitation." The hospital also said it voluntarily reported the death to the Clayton County coroner's office and is "cooperating with any investigation." The lawsuit says the couple was advised against an autopsy.
Shoulder dystocia occurs in about 3% of vaginal deliveries and typically occurs in women who have reached full term, Dr. Kiarra King, an Illinois gynecologist who is not involved in the case. Risk factors for shoulder dystocia in babies include diabetes or short stature in the mother. Ross, 20, was diagnosed with type 2 diabetes in July 2022 and her pregnancy was considered high-risk, the lawsuit says.
Another risk factor for shoulder dystocia would be whether the baby weighs more than 4,000 grams. (According to the lawsuit, Ross' baby weighed 7 pounds, 6 ounces at birth.)
While doctors are able to point out possible risk factors, shoulder dystocia "is not something we can fully predict," King said.
Edmond, the couple's attorney, said nurses and other health care providers at the hospital should have had protocols in place to deal with the issue. According to the lawsuit, both St. Julian and the nurses "failed to meet standards of care."
King said she uses American College of Obstetricians and Gynecologists guidelines to determine whether patients with risk factors such as diabetes and a larger baby would meet the criteria for a cesarean section to prevent shoulder dystocia.
Dr. Joia Crear-Perry, a gynecologist and founder of the National Birth Equity Collaborative, said that the doctor, nurses and other staff already agreed at the moment "that the patient deserved a cesarean section." Crear-Perry and King were not involved in Ross' medical care.
Ross and Taylor, 21, requested a cesarean section "while the baby was viable," Edmond said at a news conference last week, repeating the allegations in the couple's lawsuit. Instead, Ross pushed for three hours without delivering her baby, the lawsuit says, and St. Julian attempted to deliver it vaginally using various methods, including pulling on the baby's head.
Recommended
According to the lawsuit, the fetal monitor indicated an abnormal fetal heartbeat beginning at 9:26 p.m., and the heart rate continued to decrease until 10:36 p.m. There were no signs of a fetal heartbeat on the monitoring strips when St. Julian performed an emergency C-section at 11:49 p.m., the lawsuit says. The baby's body was delivered at 12:11 a.m
St. Julian's alleged "tremendously excessive tension" on the head and neck of Ross' baby, named Treveon Isaiah Jr., resulted in multiple skull and facial bone fractures as well as bleeding on his neck, brain and around his spinal cord, according to the hospital suit.
Crear-Perry said she used instruments such as forceps and vacuum cleaners to help patients push, but that if they proved unsuccessful, C-sections were ordered.
In 2020, the U.S. infant mortality rate during delivery was 5.4 deaths per 1,000 live births, according to the Centers for Disease Control and Prevention. Additional data shows the rate was highest among black babies, at 10.6 deaths per 1,000 live births.
While the way Ross' baby died is "incredibly rare, it can happen, it doesn't usually happen," King said.
According to the lawsuit, the family is seeking unspecified damages for the baby's life and for Ross' physical, mental and emotional pain and suffering. Since the incident, Edmond said the couple has been in "bad shape" and is attending counseling because they are "psychologically traumatized."
Millicent Rose, a trauma specialist and professor of clinical psychology at Pepperdine University, said: "With medical trauma, we are very aware that the symptoms can be exacerbated if we know that they could have been prevented." It happens through negligence or through another person's hand."
The hospital said in a statement that it was unable to "discuss the care and treatment of specific patients" due to patient privacy laws.
Holding a child after birth is a "rite of passage for every mother," Rose said. Depriving mothers of this opportunity after a loss can lead to ongoing grief. The central nervous system interaction between mother and child is also necessary for the mother's healing, regardless of whether the child survived birth, she added. The couple said in the lawsuit that they were unable to hold their baby. The hospital did not elaborate on the reasons in its statement.
Rose said that despite the great sadness that grieving parents may feel, she has witnessed families continue their family planning journey while learning to balance their love for children who are no longer with them.
"Grief is all the love you have to give to someone that you no longer have room for," Rose said. "For many mothers, the overwhelming feeling of love of giving another child is front and center when they experience pregnancy or the loss of an infant or child. I always encourage mothers to hold on to hope, even after disaster."