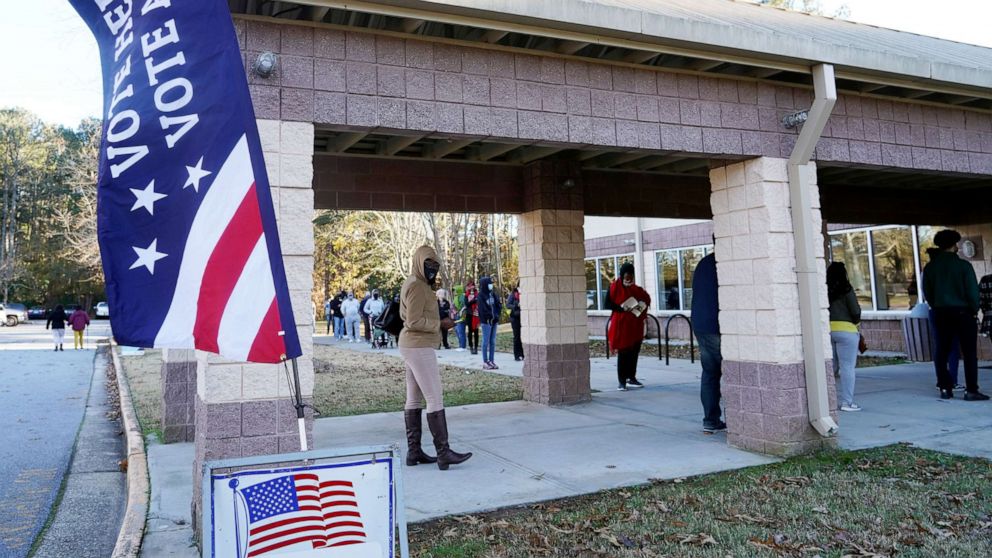 An increase in disinformation about the electoral process in Georgia has led to online threats against officials, election workers and campaign workers that activists fear could lead to real-life violence.
The crucial runoff elections scheduled for January 5 in the state keep the power of the Senate balanced and follow a deeply divided election cycle. Georgia picked a Democrat by a narrow margin in the presidential contest, leading to unfounded allegations of widespread fraud and attacks on Republican Foreign Secretary Brad Raffensperger, who stood for the integrity of the process.
Researchers from Fair Fight Action, a turnout campaigner in Georgia and chaired by Stacey Abrams, have seen a surge in disinformation related to the state elections, as have conspiracy theories about the number of votes supported by President Donald Trump and his supporters have spread widely on social media.
The post-election surge in disinformation and consumption of disinformation by Georgian voters was "incredibly high," said Fair Fight Action CEO Lauren Groh-Wargo at a recent press conference organized by the group.
She said that millions of Georgians study these narratives every week, which Fair Fight Action believes are contributing to the increase in online and real-world threats to officials, campaign workers and election workers in the state.
"As law enforcement agencies, we condemn this in the strongest possible terms," ​​said Peter Koutoujian, the sheriff of Middlesex, Massachusetts, who spoke of the call and a member of the group's advisory group and president of the Major County Chiefs Association of America: "We will not be up for these attacks Election officials step in and we certainly will not stand by if voters are intimidated or feel insecure. "
Threats are taking shape
Raffensperger, for example, was exposed to large groups of Trump supporters who protested the results of the presidential election in his home and threatened his wife.
"Fulton County has received multiple bombing raids at polling stations and it is getting out of hand," Georgian deputy foreign minister Jordan Fuchs told ABC News about voting machines, staff – the full nine meters. It's just that something is wrong. Something is wrong when the leadership can't come down and say threats against election officials are wrong. "
In November, a polling station in Atlanta was forced to go into hiding when his home address was published online. It did so after he was falsely accused of discarding votes in a debunked video posted online.
On December 4, Republican electoral officer Gabriel Sterling, a Republican, announced a noose was found on the door of a 20-year-old contractor for Dominion Voting Systems, a company that sells voting machines in the state. Sterling has denied allegations of electoral fraud and the officials' failure to speak out against the false stories that emerged.
On December 2, a Gwinnett County poll worker was followed by a man who streamed the match, falsely claiming the worker moved a polling computer, and a day later a Cobb County poll worker was followed home and labeled a racial fraud.
Fair combat researchers say this is only the tip of the iceberg when it comes to the scale of the threats they see in online rooms.
"The challenge is that people are encouraged when they feel anonymous," said Koutoujian when calling for Fair Fight.
Researchers on the group say part of the reason behind the rise in the volume of disinformation related to the Georgia elections is that different conspiracy theoretic groups, previously unrelated, are growing together, both online and in person. People who believe in electoral fraud conspiracies will gather and meet right-wing activists and right-wing militias to turn them into radicalization events, the group said.
Driven by elected leaders
Groh-Wargo said that the disinformation narrative promoted by our elected leaders is adding to this hostile environment for election workers and voters.
In a recent report by Advance Democracy Inc. (ADI), a nonprofit that conducts international research into accountability and transparency in government, it was argued that President Trump was undoubtedly the biggest disinformation driver related to the Georgia election process .
From December 3 to 10, Georgia mentions on Twitter nearly doubled compared to the previous week, largely due to Trump's account. During that time, four of the top five posts were from the President and in some way challenged the validity of the Georgia election results.
The following week, mentions fell again as the number of Trump tweets dwindled, but the president remained responsible for the top three most popular tweets that once again challenged election results.
In an unusual move, Facebook expanded the protection of election workers in Georgia, which is normally reserved for elected officials and federal and state employees.
As part of the Facebook Protect program, the company monitors the account for hacking attempts and encourages users to step up security measures such as two-factor authentication. "We have extended this offer specifically to election workers through their local election officials," Facebook spokesman Kevin McAlister told ABC News. "We are also using the teams and technology we used in the general election to combat voter suppression, misinformation and interference with the Georgia runoff."
It came after a December 4 report by Avaaz, a nonprofit tracking online disinformation, which showed Facebook's efforts failed to stop a large portion of the false posts related to the Georgia runoff election.
The report showed that Facebook did not issue fact-checking labels in 60% of a selection of misinformation about elections in Georgia. In 204 posts analyzed by Avaaz, which generated 643,406 interactions, there were 12 different false claims, including election fraud and violence against black voters.
A separate report by the nonprofit Stop Online Violence Against Women and Project Domino, a nonprofit data science research group, found evidence that black voters in Georgia were being approached with disinformation on Twitter. The groups analyzed 150,000 tweets over a 30-day period and found evidence of coordinated efforts to ban African-American voters from voting for the use of certain hashtags, including #Blexit (black withdrawal from the Democratic Party) and #walkaway.
Koutoujian said he was concerned that even if this disinformation did not lead to real violence, the threat posed by it could help suppress the vote. "Many may not see these threats as real, but they are very worrying about their desire to get out and cast their vote," he said.