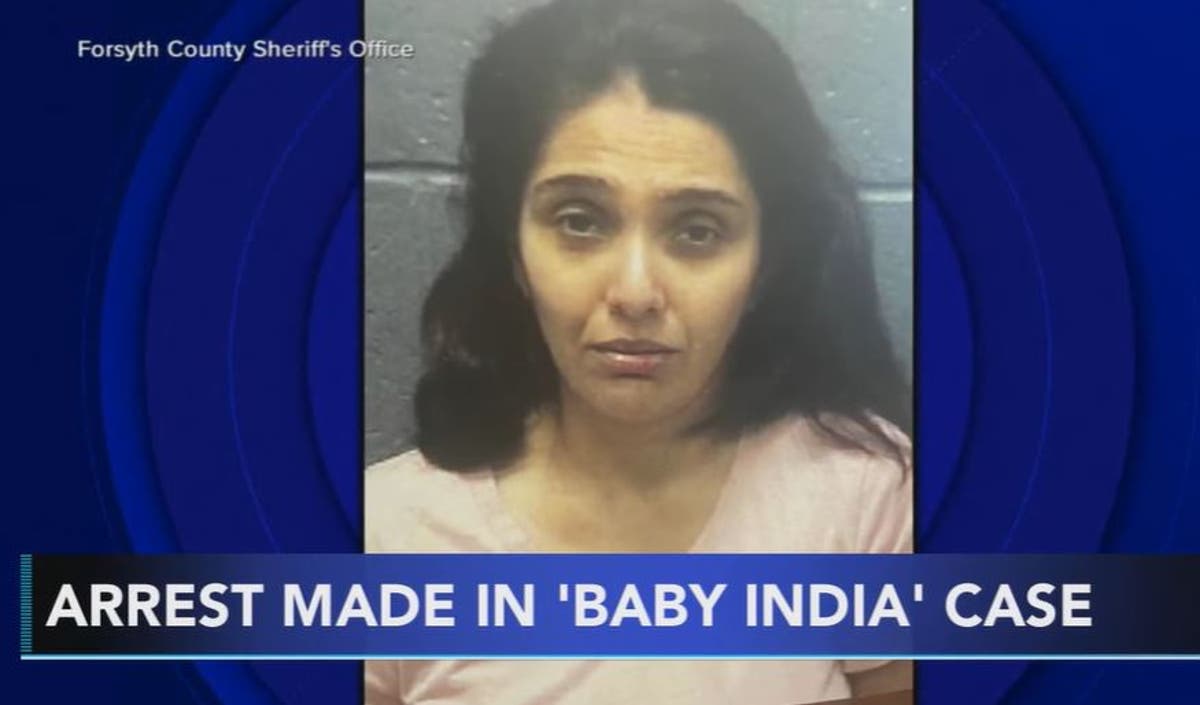 Subscribe to our free US news bulletin, delivered straight to your inbox every weekday morning
Subscribe to our free morning US email news bulletin
The mother of a newborn baby found abandoned in a Georgia woodland and wrapped in a plastic bag has been arrested after four years.
Karima Jiwani, 40, was arrested Thursday after authorities used DNA to identify the birth parents of the child named "Baby India," Forsyth County Sheriff Ron Freeman said.
She is charged with criminal intent to murder, cruelty to children in the first degree, aggravated assault and reckless abandonment.
In 2019, a family in Cummuning, about 40 miles north of Atlanta, called 911 after hearing screams coming from the woods.
Police officers responding to the call found an hour-old girl tied up in a yellow plastic bag with her umbilical cord still attached.
Body camera footage of the discovery was released as officials asked the public for help locating the girl's parents. Footage showed officers removing the baby from the plastic bag and wrapping it in a blanket.
Baby India's birth likely took place in a vehicle, Sheriff Freeman said Friday, adding that she was found hours before a severe thunderstorm hit Forsyth County.
The child's father was identified nearly ten months ago using advanced DNA discovery methods and family DNA. However, there is no evidence that he was involved in their suspension, the sheriff said.
"At this time there is no evidence that the father was aware of the pregnancy or the abandonment of the baby," he added.
Ms Jiwani drove with the infant in a car for "a significant amount of time" after the birth, "until she decided to tie the baby in a plastic bag and throw it in the forest to die," police said.
There is evidence the mother was alone when the child was abandoned, Sheriff Freeman said. According to the sheriff's office, Ms. Jiwani cooperated with investigators throughout the investigation.
Authorities said they could not discuss the motives or details of what Ms Jiwani told investigators at the time because the case is pending.
"This child was tied up in a plastic bag and thrown in the forest like a bag of garbage. I can't understand that," said Mr. Freeman.
"It's literally one of the saddest things I've ever seen. … can hardly explain how this happened, and no motive can justify this decision."
"Jiwani made no move to abandon this child, not only under the Safe Haven Act, but anywhere this child could be found."
Georgia's Safe Haven law grants mothers criminal immunity if they leave their baby with volunteers or staff at a medical facility, or at a fire or police station if the child is no older than 30 days.
The sheriff's office did not provide details on baby India's current condition, but said she is "blossoming" in the care of the Georgia Department of Family and Children Services.