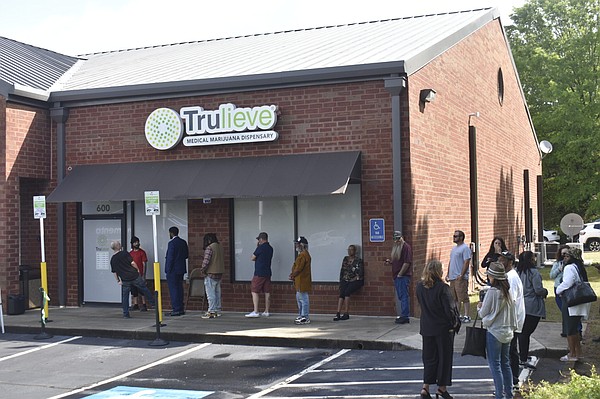 Some of the roughly 27,000 Georgia patients who were on the state THC oil registry were able to purchase their first legal dose in late April, when Trulieve, one of the companies licensed to manufacture and sell the drug, opened shops in Marietta and Macon opened.
Trulieve plans to open a third location in Pooler, near Savannah, and another company, Botanical Sciences, plans to open stores in Pooler and Marietta. But while the stores' products may bring relief to patients with serious illnesses like cancer and seizure disorders, they won't provide relief to those suffering from the harsh vibrations of the controversial approval process.
As court battles over licenses continue, an open government group said Friday it is asking the state Supreme Court to overturn lower court decisions and release court filings from the troubled licensing process.
"Georgia's new licensing process for the distribution of medicinal cannabis has been bitterly protested by serious allegations of corruption relating to the process and procedure, as well as other serious allegations regarding the suitability, skills and qualifications of the successful bidders to manufacture this healthcare product," the filing reads by the Georgia First Amendment Foundation on April 30. "The damage to the public from the continued practice of secret litigation will no doubt be exponential."
(READ MORE: The secrecy of Georgia's medical cannabis regulation still frustrates efforts to bring relief to patients.)
The state legislature legalized low-THC medicinal cannabis oil for patients with multiple serious medical conditions in 2015, but the law did not provide a way for patients to legally obtain the drug. Four years later, lawmakers passed a bill that would provide a process for six companies to grow the plants and produce the oil, which must contain only a small amount of THC, the compound that gets marijuana users high.
This process did not go as smoothly as the elected officials intended. Some of the companies that submitted unsuccessful bids for licenses said they were not treated fairly, and court cases continue over four other licenses for more limited entities than Trulieve and Botanical Sciences.
The foundation said it's hard to tell how accurate these companies' claims are because the Georgia Access to Medical Cannabis Commission operates privately.
In June 2022, a Georgia Office of State Administrative Hearings judge sealed all litigation-related files from the dispute. A Fulton County Superior Court judge upheld that ruling in February, and in April the Georgia Court of Appeals denied a discretionary appeal by the foundation.
In its filing, the foundation called the lower court's decisions "entirely inconsistent" with precedent set by the Georgia Supreme Court upholding citizens' right to court records, and said the lower court's decisions "damage the reputation and Integrity of the judicial process by creating a rule that…" Administrative courts are exempt from transparency even when deciding the healthcare rights of millions of Georgians, and by continuing to rule that no member of the public can challenge this rule."
Republican Rep. Alan Powell of Hartwell, a supporter of the low-THC program, said the commission was also unavailable to lawmakers.
"One of the problems I had was at the hearings in 1922 where we called the chief executive. He refused to answer questions to a House Standing Committee," Powell said. "And we kept asking the question: What took so long, why did it take so long to get the permit and the licenses for these operations? And he refused to answer the questions, and his comment was that according to the laws that were passed, that was the case." They were forbidden to answer questions.
(READ MORE: Georgia finally issues some medical cannabis licenses, giving patients access 'very soon')
Powell introduced House Bill 196 that year that would have subjected the Georgia Access to Medical Cannabis Commission to state public assembly and open record laws. The bill was passed in different forms by the House and Senate, but the two chambers failed to reach an agreement by the end of the March session.
"This should set a good example for all current and future legislators that every time legislation is passed it must specify that those records are available to the public and to the legislature, because that's the only way to ensure that things." be done right," he said.
Sales were brisk in the first week
Visitors to Trulieve's Marietta site last week entered an elegant reception office and waiting room, where a member of staff greeted them and asked for their doctor-issued health card before ushering them through a door into a sales room filled with small boxes of low-grade products THC content were glass showcases.
The number of patients in the registry increased slightly as the first stores opened, totaling 26,887 on Wednesday, compared to 26,590 on April 20.
Andrew Turnage, executive director of the Georgia Access to Medical Cannabis Commission, told WABE News that the number is likely to rise to 100,000.
Managing Director Holly Chapman said she has helped customers who have traveled up to an hour and a half to get the drug, but most shoppers say they feel happy they can finally get their medicine without having to travel any further need or to circumvent the law.
(READ MORE: Where to Find Quality CBD Products in Chattanooga)
"Everyone comes in really excited," she said. "Everyone is just happy that we are here. We're also happy to help. We have noticed that all of our patients who come to us are simply very happy."
Powell said he's also glad patients finally had access to their medications, but he'd be a lot happier if the process had been more open and more locations in other parts of the state had been available.
"I think competition is good," he said. "I believe in the free market and free enterprise. And you have two companies that have this monopoly and it depends on the court process, but I don't know if the courts are going to settle that now. The people." who filed the lawsuit because they felt they had been wronged by the licensing process resulting from this secret Cannabis Commission operation, they had the right to file a lawsuit and depending on how the courts felt about a of these different steps along the way, decide "This could be solved in two months, it could be solved in six months, it could be solved in 12 months."
Read more at GeorgiaRecorder.com.
The Trulieves Marietta shop has a display of medicinal cannabis products. / Georgia Recorder photo by Ross Williams