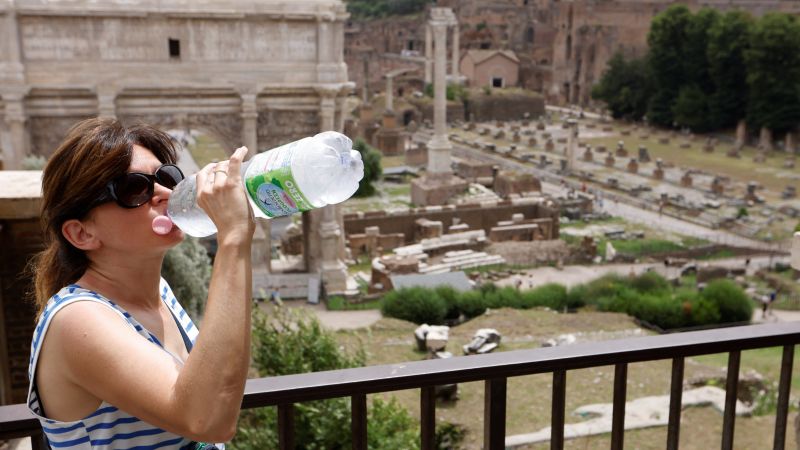 Remo Casilli/Reuters
A woman drinks water near the Roman Forum during a heat wave across Italy, in Rome, July 13, 2023. REUTERS/Remo Casilli

CNN
 — 
Summer is a great time to take a vacation and experience some of nature's wonders. But far too often, travelers take a toll on local habitats or wildlife. Check out these suggestions for how to be an environmentally friendly tourist.
Here's what else you need to know to Start Your Week Smart.
• Italian authorities have issued an "extreme" health risk for 16 cities — including Rome and Florence — this weekend as a heat wave that is baking Europe threatens to bring record temperatures. Climate scientists at the European Space Agency say temperatures could reach 118 degrees Fahrenheit on the islands of Sicily and Sardinia, "potentially the hottest temperatures ever recorded in Europe."
• Rescue workers pulled seven bodies from vehicles trapped in a flooded underpass in central South Korea after days of torrential rain caused landslides and flash floods that have killed at least 33 people. A search and rescue operation involving 400 workers and divers was launched Saturday after 15 vehicles, including a public bus, became trapped by rising flood waters in the Gungpyeong tunnel, the chief of the local fire department said.
• Russia has a stockpile of cluster munitions and will consider using them against Ukraine "if they are used against us," President Vladimir Putin said. Putin's comments come just days after Ukraine received a delivery of American-made cluster munitions, though a top Ukrainian military official told CNN they had not yet been used.
• Law enforcement is searching for a man accused of fatally shooting four people in Hampton, Georgia, Saturday morning, according to authorities. The Henry County Sheriff's Office identified the suspect as 40-year-old Andre Longmore. Authorities believe the suspect is driving a 2017 black GMC Acadia with license plates DHF 756, which is not his own vehicle.
• Elon Musk disclosed on Twitter Saturday that, due to a 50% drop in advertising revenue and a "heavy debt load," the platform still has a negative cash flow. The tweet is in stark contrast to his tone in April when Musk told the BBC that the platform was "roughly breaking even" and that most of its advertisers had returned.
Monday
If you forgot to file your taxes during the early days of the Covid-19 pandemic in 2020, you have until this day to do so. Nearly 1.5 million taxpayers may still be eligible for a tax refund from tax year 2019, according to the IRS. The agency estimates that almost $1.5 billion in refunds remain unclaimed. By law, taxpayers normally have three years to file and claim their tax refunds. The original tax day in 2020 was delayed by 90 days due to the pandemic, so the usual three-year window was also been pushed back to July 17.
Tuesday
The first hearing before US District Judge Aileen Cannon in the federal criminal case against former President Donald Trump and co-defendant Walt Nauta is scheduled to take place, according to a court order. The hearing will be about the handling of classified information in the case — the first of likely many proceedings on this topic — and may not be fully conducted in public because of the sensitivity around the issues. Trump pleaded not guilty last month to 37 charges related to the alleged mishandling of classified documents at his Mar-a-Lago residence. Nauta, Trump's aide, pleaded not guilty earlier this month to multiple counts, including several obstruction and concealment-related charges.
Wednesday
For Muslims in the Western Hemisphere, the next New Year begins on the evening of July 19. The exact date can vary depending on the method used to determine the start of the new year: using local sightings or astronomical calculations for the new moon.
It's also National Hot Dog Day. Here's everything you need to know to relish the occasion. Just try to steer clear of the whole mustard vs. ketchup debate and whether a hot dog on a bun constitutes a sandwich. Otherwise, you're bound to get heartburn.
Thursday
Comic-con International gets underway in San Diego, but with Hollywood's writers and actors on strike, the major studios that churn out related content have already pulled out of the event. Disney and its Marvel Studios and Lucasfilm subsidiaries are not planning any panels, and Netflix, Sony, Universal and HBO are also skipping the gathering. HBO, like CNN, is owned by Warner Bros. Discovery.
One Thing: Women's World Cup preview
In this week's "One Thing" podcast, CNN Sports anchor Amanda Davies has a preview of this year's Women's World Cup and explains why some players say the fight for equality is far from over. Listen for more.
Jessica Rinaldi/The Boston Globe/Getty Images
People look over a railing as the Ottauquechee River rises in Quechee, Vermont, on Monday, July 10.
Susan Walsh/AP
US President Joe Biden reviews royal guards in front of Britain's King Charles III during a welcoming ceremony in Windsor, England, on Monday, July 10. It was Biden's second trip to Windsor Castle since taking office.
Toby Melville/Reuters
Markéta Vondroušová celebrates after defeating Elina Svitolina in the Wimbledon semifinals on Thursday, July 13. She will face Ons Jabeur in the final.
Matt York/AP
A passenger jet takes off as the sun sets over downtown Phoenix on Wednesday, July 12. Arizonans have endured scorching temperatures for more than two weeks, and that hot streak is about to get even hotter as a brutal heat wave starts to take shape ahead of the weekend.
Jeenah Moon/Reuters
A collision between a double-decker bus and a city bus left dozens injured in New York City on Thursday, July 6.
Emmanuel Dunand/AFP/Getty Images
A worker restores lead on one of the sculptures forming Apollo's Chariot Fountain at the Coubertin Foundry in Saint-Rémy-lès-Chevreuse, France, on Monday, July 10.
Petroleos Mexicanos (PEMEX)/Handout/Reuters
Boats spray water onto an offshore oil platform that caught fire at the Bay of Campeche in the Gulf of Mexico on Friday, July 7. At least two people were killed, according to the state-owned oil company Petróleos Mexicanos (Pemex).
Menahem Kahana/AFP/Getty Images
A demonstrator uses a megaphone as he and others march outside the US Embassy in Tel Aviv, Israel, on Tuesday, July 11. Tens of thousands of demonstrators took to the streets in Israel on Tuesday to protest their government's renewed moves to overhaul the country's judicial system.
Patrick Smith/Getty Images
Fans sit outside a fence where Christoper O'Connell was playing a Wimbledon match in London on Friday, July 7.
Luis Tato/AFP/Getty Images
A police officer shoots a tear-gas canister to disperse some protesters as they gathered in Nairobi, Kenya, on Wednesday, July 12. Kenyan opposition leader and former prime minister Raila Odinga has led calls for nationwide protests over a raft of unpopular tax hikes proposed by the national government.
Michael Conroy/AP
Indiana Fever forward Aliyah Boston looks to shoot over New York's Jonquel Jones during a WNBA game in Indianapolis on Wednesday, July 12.
Clodagh Kilcoyne/Reuters
Judge Vincent Holian looks at yearling fillies during the Roundstone Connemara Pony Show in Roundstone, Ireland, on Sunday, July 9.
Erin Hooley/AP
Flamingos groom themselves at Chicago's Lincoln Park Zoo on Tuesday, July 11.
Patrick Semansky/AP
PGA Tour board member Jimmy Dunne, right, testifies alongside PGA Tour Chief Operating Officer Ron Price during a Senate hearing in Washington, DC, on Tuesday, July 11. They told lawmakers that the sport's governing body had no choice but to reach a truce in its yearlong battle with LIV Golf and try to reach a merger with the Saudi-funded tour.
The Asahi Shimbun/Getty Images
This aerial photo, taken on Monday, July 10, shows damage caused by a landslide in Karatsu, Japan. Heavy rainfall in southwestern Japan caused devastating flooding and mudslides that have left at least six people dead, according to the Fire and Disaster Management Agency on Tuesday.
Oli Scarff/AFP/Getty Images
A handler grooms cattle before judging at the Great Yorkshire Show in Harrogate, England, on Tuesday, July 11.
Kyodo News/Getty Images
Japanese Prime Minister Fumio Kishida delivers a speech in front of other G7 leaders and Ukrainian President Volodymyr Zelensky, in green, during the NATO summit in Vilnius, Lithuania, on Wednesday, July 12. While Zelensky may have left the summit without his main wish — full NATO membership for his war-torn country — he secured a streamlined future path into the alliance and a swath of other security measures from Western allies.
Toby Melville/Reuters
Christopher Eubanks bites a tennis ball during his Wimbledon quarterfinal match on Wednesday, July 12. The American's thrilling run ended in a five-set loss to Daniil Medvedev. This was Eubanks' first-ever Wimbledon appearance and came just a year after he took up a commentating job with the Tennis Channel amid doubts about his playing career.
Oli Scarff/AFP/Getty Images
The rusty remains of a handgun are found on the dry bed of the Woodhead Reservoir near Glossop, England, on Monday, July 10.
Sarahbeth Maney/Detroit Free Press/AP
Grace Franklin, the 17-year-old granddaughter of legendary singer Aretha Franklin, is embraced by family members at a courtroom in Pontiac, Michigan, on Tuesday, July 11. A jury had just settled a legal dispute over the singer's will, determining that a 2014 version should stand as the document of record.
Marco Di Marco/AP
Lava emerges from a fissure of the Fagradalsfjall volcano near the Litli-Hrútur mountain, some 30 kilometers (19 miles) southwest of Reykjavik, Iceland, on Monday, July 10.
John Tully for The Washington Post/Getty Images
Gordon George surveys flood damage at his home in Barre, Vermont, on Tuesday, July 11. Homes throughout Barre were inundated with flash flooding that left behind thick mud and sediment.
Andy Wong/Pool/AFP/Getty Images
In this photo, taken with a slow shutter speed, Chinese honor guards march during a welcoming ceremony for Solomon Islands Prime Minister Manasseh Sogavare on Monday, July 10.
Ciro De Luca/Reuters
A woman tries to cool off in Naples, Italy, on Monday, July 10. Italy has been sweltering under a deadly heat wave named Cerberus — after the three-headed monster that features in Dante's Inferno as a guard to the gates of hell.
NASA/ESA/CSA/STScI/Klaus Pontoppidan and Alyssa Pagan (STScI)
The James Webb Space Telescope has captured a stunning new image of the closest star-forming region to Earth, located 390 light-years away. The image, released on Wednesday, July 12, to mark the telescope's first anniversary, showcases the chaos of the Rho Ophiuchi cloud complex, where crisscrossing jets from young sunlike stars hit interstellar gas and cause it to glow.
Samsung C&T/Yonhap/Reuters
Giant panda Ai Bao holds one of her babies in her mouth on Tuesday, July 11, after giving birth to twins at a theme park in Yongin, South Korea.
Hollie Adams/Reuters
Larry the cat, who lives at the official residence of the UK's prime minister, is removed from the red carpet before the arrival of US President Joe Biden on Monday, July 10.
Narinder Nanu/AFP/Getty Images
People rest at a train station in Amritsar, India, after rail services were disrupted following heavy rainfall on Tuesday, July 11.
John Minchillo/AP
Emergency personnel battle a fire that was burning aboard a cargo ship in New Jersey's Port Newark on Friday, July 7. The fire ignited a couple of days earlier and killed two firefighters.
Genya Savilov/AFP/Getty Images
Women wear traditional Ukrainian clothes during Kupala Night celebrations near Yagidne, Ukraine, on Saturday, July 8. This was after they volunteered to clear debris from destroyed buildings. See last week in 30 photos.
Check out more images from the week that was, curated by CNN Photos. [add text link to the gallery]
In theaters
Friday is being billed as "Barbenheimer" as iconic doll Barbie battles the atomic bomb at the box office.
First up is Hollywood's pinkest movie to date: "Barbie," starring Margot Robbie as the titular doll and Ryan Gosling as poor, overlooked Ken. "Barbie" is being released by Warner Bros., which — like CNN — is a unit of Warner Bros. Discovery.
Also hitting theaters is Christopher Nolan's World War II-era nuclear thriller "Oppenheimer," starring Cillian Murphy as J. Robert Oppenheimer — the "father of the atomic bomb." Matt Damon, Florence Pugh, Emily Blunt, Robert Downey Jr., Kenneth Branagh, David Krumholtz and Josh Peck also star.
At a glance …
Soccer great Lionel Messi signed with Major League Soccer club Inter Miami on Saturday, the club announced. The seven-time Ballon d'Or winner, who is under contract with the club until the end of the 2025 MLS season, said he was "very excited," while co-owner David Beckham described the signing as a "dream come true."
The men's singles final at Wimbledon is underway with Novak Djokovic facing Carlos Alcaraz, and the winner will leave London with not only the Wimbledon crown but also world No. 1 status. On Saturday, Markéta Vondroušová defeated favorite Ons Jabeur to become the first unseeded woman in Wimbledon history to win the famous tournament.
The 2023 FIFA Women's World Cup kicks off on Thursday in 10 stadiums across Australia and New Zealand and runs through August 20.
Also on Thursday, play begins at the 151st Open at the Royal Liverpool Golf Club in Merseyside, England.
For more of your favorite sports, head on over to Bleacher Report, which — like CNN — is owned by Warner Bros. Discovery.
Looking for a challenge to start your week? Take CNN's weekly news quiz to see how much you remember from the week that was! So far, 51% of fellow quiz fans have gotten eight or more questions right. How will you fare?
'Cruel Summer'
Yup, that sums up what it feels like due to heat waves in parts of the US and Europe right now … (Click here to view)